Copy, tweak and paste: How Central African Economies can benefit from elsewhere experiences to build skills for economic diversification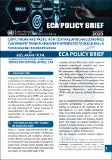 Published
2020-11
Author(s)/Corporate Author (s)
Ticha, Abel Akara;
United Nations. Economic Commission for Africa;
United Nations. Economic Commission for Africa;

Abstract
Inadequate skills development and low productivity are hobbling the competitive edge and economic diversification potential of Central African countries. However, if they draw inspiration from the recent steps taken by Ethiopia to foster education in Science, Technology, Engineering and Mathematics (STEM), and learn from the track record of countries such as Japan and South Africa, among others, then the sub-region can also promote a skills revolution in the training and deployment of human resources to respond better to the challenges and opportunities for economic diversification in Central Africa.
Citation
"Ticha, Abel Akara; United Nations. Economic Commission for Africa; United Nations. Economic Commission for Africa (2020-11). Copy, tweak and paste: How Central African Economies can benefit from elsewhere experiences to build skills for economic diversification. ECA Policy Brief. 2020, 7 p.. Addis Ababa. © UN. ECA. https://hdl.handle.net/10855/43932"
Serial Title
ECA Policy Brief
Related items
Showing items related by title, author, creator and subject.
Report of mission to Kampala 7 February-13 February 2005

United Nations. Economic and Social Council; United Nations. Economic Commission for Africa. African Centre for Gender and Development; United Nations. Economic and Social Council; United Nations. Economic Commission for Africa. African Centre for Gender and Development; United Nations. Economic Commission for Africa.

"Tadria, Hilda; United Nations. Economic and Social Council; United Nations. Economic Commission for Africa. African Centre for Gender and Development; United Nations. Economic and Social Council; United Nations. Economic Commission for Africa. African Centre for Gender and Development; United Nations. Economic Commission for Africa. (2005). Report of mission to Kampala 7 February-13 February 2005. Addis Ababa:. © UN. ECA,. https://hdl.handle.net/10855/41484"

Framework for a set of e-government core indicators

United Nations Conference on Trade and Development; United Nations. Economic Commission for Africa.; United Nations. Economic Commission for Latin America and the Caribbean; United Nations. Economic and Social Commission for Asia and the Pacific; United Nations. Economic and Social Commission for Western Asia; Statistical Office of the European Union; International Telecommunication Union; Organisation for Economic Co-operation and Development; United Nations Conference on Trade and Development

"United Nations Conference on Trade and Development; United Nations. Economic Commission for Africa.; United Nations. Economic Commission for Latin America and the Caribbean; United Nations. Economic and Social Commission for Asia and the Pacific; United Nations. Economic and Social Commission for Western Asia; Statistical Office of the European Union; International Telecommunication Union; Organisation for Economic Co-operation and Development; United Nations Conference on Trade and Development (2012). Framework for a set of e-government core indicators. Addis Ababa :. © UN. ECA,. https://hdl.handle.net/10855/25669"

Report of the meeting of the committee on women and development: expert session

United Nations. Economic and Social Council; United Nations. Economic Commission for Africa. African Centre for Gender and Development; United Nations. Economic Commission for Africa. African Centre for Gender and Development; United Nations. Economic and Social Council; United Nations. Economic Commission for Africa.

"United Nations. Economic and Social Council; United Nations. Economic Commission for Africa. African Centre for Gender and Development; United Nations. Economic Commission for Africa. African Centre for Gender and Development; United Nations. Economic and Social Council; United Nations. Economic Commission for Africa. (2005-10). Report of the meeting of the committee on women and development: expert session. UN. ECA Committee on Women and Development Meeting(2005, Oct. 13-14 :Dakar, Senegal). Addis Ababa :. © UN. ECA,. https://hdl.handle.net/10855/25697"