Land, identity and socioeconomic transformation in southern Africa : the issues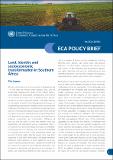 Published
2020
Author(s)/Corporate Author (s)
United Nations. Economic Commission for Africa;
United Nations. Economic Commission for Africa;

Abstract
The study on "Land, Identity and Sustainable Socioeconomic Transformation in Southern Africa", commissioned by the ECA Subregional Office for Southern Africa, reviewed the nature and impact of social identity dimensions such as race, gender, age, ethnicity, class and political affiliation, as well as farmer category on access to land, ownership and utilization, and on socioeconomic development in Southern Africa. The Policy Brief emanating from the study is of great importance because land, especially from the identity perspective, has recently emerged as an issue of intense policy debate in the region. The study sought to elaborate on the key issues, dynamics and policy options surrounding identity, and proffer recommendations to address challenges. The analysis of the identity issues focused on the experience in three countries – Namibia, South Africa and Zimbabwe – and elaborated on and highlighted the impact of identity on land governance and administration, and brought to light some of the challenges of not factoring in these identities. The study also interrogated the role and impact of continental and regional policy declarations and their impact on agriculture in the region, as well as the impact of largescale investments in the agricultural sector on productivity and livelihoods.
Citation
"United Nations. Economic Commission for Africa; United Nations. Economic Commission for Africa (2020). Land, identity and socioeconomic transformation in southern Africa : the issues. Addis Ababa. © UN. ECA. https://hdl.handle.net/10855/43724"
Serial Title
ECA Policy Brief ; No. ECA/20/001
Related items
Showing items related by title, author, creator and subject.
Gender mainstreaming activities during 2000-2001

United Nations. Economic and Social Council; United Nations. Economic Commission for Africa; United Nations. Economic Commission for Africa. African Centre for Women; United Nations. Economic Commission for Africa. Subregional Development Centre for Southern Africa (ECA/SRDC-SA)

"Lomayani, Irene Bertha; United Nations. Economic and Social Council; United Nations. Economic Commission for Africa; United Nations. Economic Commission for Africa. African Centre for Women; United Nations. Economic Commission for Africa. Subregional Development Centre for Southern Africa (ECA/SRDC-SA) (2001-11). Gender mainstreaming activities during 2000-2001. UN. ECA Committee on Women and Development (CWD) Meeting (2001, novembre 5 - 8 : Addis Abeba, Ethiopie). Addis Ababa :. © UN. ECA,. https://hdl.handle.net/10855/14076"

A snapshot of cross-border trade along the Abidjan-Lagos Corridor

United Nations. Economic Commission for Africa; United Nations. Economic Commission for Africa. Regional Integration and Trade Division. African Trade Policy Center; United Nations. Economic Commission for Africa; United Nations. Economic Commission for Africa. Regional Integration and Trade Division. African Trade Policy Center

"United Nations. Economic Commission for Africa; United Nations. Economic Commission for Africa. Regional Integration and Trade Division. African Trade Policy Center; United Nations. Economic Commission for Africa; United Nations. Economic Commission for Africa. Regional Integration and Trade Division. African Trade Policy Center (2020). A snapshot of cross-border trade along the Abidjan-Lagos Corridor. Addis Ababa. © UN. ECA. https://hdl.handle.net/10855/43680"

Climate change and development in Africa Post COVID-19: some critical reflections : discussion paper

United Nations. Economic Commission for Africa; United Nations. Economic Commission for Africa. Special Initiatives Division. African Climate Policy Center; United Nations. Economic Commission for Africa; United Nations. Economic Commission for Africa. Special Initiatives Division. African Climate Policy Center

"United Nations. Economic Commission for Africa; United Nations. Economic Commission for Africa. Special Initiatives Division. African Climate Policy Center; United Nations. Economic Commission for Africa; United Nations. Economic Commission for Africa. Special Initiatives Division. African Climate Policy Center (2020). Climate change and development in Africa Post COVID-19: some critical reflections : discussion paper. Addis Ababa. © UN. ECA. https://hdl.handle.net/10855/43764"