Trade Reforms and Integration of Cocoa Farmers into World Markets: Evidence from African and non-African Countries:Research Article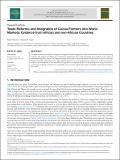 Published
2019-12
Author(s)/Corporate Author (s)
Tsowou, Komi;
Gayi, Samuel K.;
United Nations. Economic Commission for Africa;
United Nations Conference on Trade and Development;

Abstract
The paper analyses cocoa farmers' integration into global markets taking into account trade reforms in five cocoa producing countries. The analysis investigates price transmission mechanisms from world to domestic cocoa markets in the context of trade liberalizing policy reforms. The empirical analysis of this study is carried out within the framework of the Error Correction Model. The results, while being mixed, suggest that the reforms have increased the exposure of farmers to world cocoa markets. However, this development is not associated with significant increases in the share of the world price accruing to farmers in cocoa major producing countries. For a sustainable cocoa economy, policies that create an enabling environment for farmers are critical.
Citation
"Tsowou, Komi; Gayi, Samuel K.; United Nations. Economic Commission for Africa; United Nations Conference on Trade and Development (2019-12). Trade Reforms and Integration of Cocoa Farmers into World Markets: Evidence from African and non-African Countries:Research Article. Journal of African Trade. Vol. 6(1-2); December (2019), 16-29. Addis Ababa. © UN.ECA. "
Serial Title
Journal of African Trade
Related items
Showing items related by title, author, creator and subject.