Africa data revolution report 2018:the status and emerging impact of open data in Africa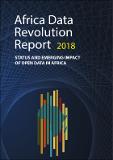 Published
2019-12
Author(s)/Corporate Author (s)
United Nations. Economic Commission for Africa;

Abstract
The Africa Data Revolution Report 2018 delves into the recent evolution and current state of open data, with an emphasis on Open Government Data, in the African data communities. It explores key countries across the continent, researches a wide range of open data initiatives, and benefits from global thematic expertise. This second edition improves on process, methodology and collaborative partnerships from the first edition. It draws from country reports, existing global and continental initiatives, and key experts' input, in order to provide a deep analysis of the actual impact of open data in the African context. In particular, this report features a dedicated Open Data Barometer survey as well as a special 2018 Africa Open Data Index regional edition surveying the status and impact of open data and dataset availability in 30 African countries. The research is complemented with six in-depth qualitative case studies featuring the impact of open data in Kenya, South Africa (Cape Town), Ghana, Rwanda, Burkina Faso and Morocco. The report was critically reviewed by an eminent panel of experts. The report encourages national policy makers and international funding or development agencies to consider the status, impact and future of open data in Africa on the basis of this research. Other stakeholders working with or for open data can hopefully also learn from what is happening on the continent. It is hoped that the findings and recommendations contained in the report will form the basis of a robust, informed and dynamic debate around open government data in Africa.
Citation
"United Nations. Economic Commission for Africa (2019-12). Africa data revolution report 2018:the status and emerging impact of open data in Africa. Addis Ababa. © UN.ECA. https://hdl.handle.net/10855/43341"
Serial Title
Monthly
Collections
Related items
Showing items related by title, author, creator and subject.
Impact of the economic community of West African States common external tariff and European Union Economic Partnership Agreements

United Nations. Economic Commission for Africa; United Nations. Economic Commission for Africa. Subregional Office West Africa (SRO-WA); United Nations. Economic Commission for Africa. Subregional Office West Africa (SRO-WA); United Nations. Economic Commission for Africa; United Nations. Economic Commission for Africa. Subregional Office West Africa (SRO-WA); United Nations. Economic Commission for Africa. Subregional Office West Africa (SRO-WA)

"United Nations. Economic Commission for Africa; United Nations. Economic Commission for Africa. Subregional Office West Africa (SRO-WA); United Nations. Economic Commission for Africa. Subregional Office West Africa (SRO-WA); United Nations. Economic Commission for Africa; United Nations. Economic Commission for Africa. Subregional Office West Africa (SRO-WA); United Nations. Economic Commission for Africa. Subregional Office West Africa (SRO-WA) (2017). Impact of the economic community of West African States common external tariff and European Union Economic Partnership Agreements. Addis Ababa. © UN.ECA. https://hdl.handle.net/10855/43873"

ECOWAS at 45: an assessment of progress towards regional integration in West Africa

United Nations. Economic Commission for Africa; United Nations. Economic Commission for Africa. Subregional Office West Africa (SRO-WA); United Nations. Economic Commission for Africa; United Nations. Economic Commission for Africa. Subregional Office West Africa (SRO-WA)

"United Nations. Economic Commission for Africa; United Nations. Economic Commission for Africa. Subregional Office West Africa (SRO-WA); United Nations. Economic Commission for Africa; United Nations. Economic Commission for Africa. Subregional Office West Africa (SRO-WA) (2016-06-28). ECOWAS at 45: an assessment of progress towards regional integration in West Africa. Addis Ababa. © UN.ECA. https://hdl.handle.net/10855/43624"

COVID-19 Crisis in North Africa: the Impact and Mitigation Responses

United Nations. Economic Commission for Africa; United Nations. Economic Commission for Africa. Subregional Office North Africa (SRO-NA); United Nations. Economic Commission for Africa; United Nations. Economic Commission for Africa. Subregional Office North Africa (SRO-NA)

"United Nations. Economic Commission for Africa; United Nations. Economic Commission for Africa. Subregional Office North Africa (SRO-NA); United Nations. Economic Commission for Africa; United Nations. Economic Commission for Africa. Subregional Office North Africa (SRO-NA) (2020). COVID-19 Crisis in North Africa: the Impact and Mitigation Responses. Addis Ababa. © UN. ECA. https://hdl.handle.net/10855/43762"