Pan-Africa Component: Report of the Regional Climate Research Partnership (RCRP) Workshop for East Africa (EA): Climate Research for Development (CR4D)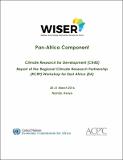 Published
2016-03
Author(s)/Corporate Author (s)
United Nations. Economic Commission for Africa. Special Initiatives Division. African Climate Policy Center;

Abstract
A workshop is successfully held in Nairobi with the primary objective of scoping and assessing of user-driven climate re-search priorities for Eastern and Horn of Africa to facilitate the formation of multi-disciplinary participatory climate research and outreach teams jointly focused on identifying, co-designing and undertaking priority user inspired climate research that can improve quality and access to climate information and services for policy making and development planning. Participants agreed that the CR4D East Africa team should engage more closely with the marine and oceanographic experts to develop integrated user-driven research that incorporates the effects of changes in the sea surface temperatures and ocean heat content and how they affect sub-seasonal, seasonal and longer term forecasting-e.g. the influence of El Nino. They stated that CR4D Secretariat should take the lead in supporting the mobilization of seed funding for the EA-RCRP to initiate a proof-of concept pilot to ensure operationalization of the RCRP. Furthermore, they recommended that the CR4D Secretariat identify key challenges, information/knowledge gaps and user-driven research priorities for the region while conducting comprehensive research on climate change that takes advantage of ongoing initiatives is necessary. They finally stressed a need for establishing a strong "feedback systems" to track progress.
Citation
"United Nations. Economic Commission for Africa. Special Initiatives Division. African Climate Policy Center (2016-03). Pan-Africa Component: Report of the Regional Climate Research Partnership (RCRP) Workshop for East Africa (EA): Climate Research for Development (CR4D). Addis Ababa. © UN. ECA. "
Related items
Showing items related by title, author, creator and subject.