Importance of civil registration and vital statistics and identity management for durable solutions for refugees, internally displaced persons and returnees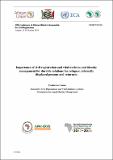 Published
2019-10
Author(s)/Corporate Author (s)
United Nations. Economic Commission for Africa;
African Union Commission;
African Development Bank;

Abstract
Registration is a very important component of the mandate of UNHCR as it further provides data about persons of concern for the provision of protection, programme activities, service delivery and durable solutions. Registration data also provide valuable information about the overall demographic and other characteristics of population figures such as rates, averages and patterns. As such, registration data are key for designing, planning, targeting, delivering, tracking, monitoring and interventions across multi sectoral activities. UNHCR data are updated through verification or continuous registration. Updates include new births, deaths, locations, protection cases and specific needs. The UNHCR registration system includes mechanisms to make data more reliable and effective. UNHCR defines three broad levels of registration, corresponding to different stages of the operation, and requiring different levels of resource investment. The levels are distinguishable by the amount of data collected, the degree to which the generic process is followed and the frequency of updating the information. Information compiled through a registration process is required to support a wide range of activities. The same set of core information is collected and used for different purposes, although most also require specific additional information depending on the reason the information is collected. The registration data collected are used for issuing identity and entitlement documentation, refugee status determination, protection and community services interventions, and registration of refugees and asylum seekers.
Citation
"United Nations. Economic Commission for Africa; African Union Commission; African Development Bank (2019-10). Importance of civil registration and vital statistics and identity management for durable solutions for refugees, internally displaced persons and returnees. UN. ECA Conference of African Ministers Responsible for Civil Registration (5th: 2019, Oct. 14-18: Zambia, Lusaka).. Addis Ababa. © UN. ECA. "
Conference
UN. ECA Conference of African Ministers Responsible for Civil Registration (5th: 2019, Oct. 14-18: Zambia, Lusaka).
Collections