Joint Meeting of Regional United Nations Sustainable Development Groups for Western & Central Africa and Eastern & Southern Africa and United Nations Economic Commission for Africa: draft report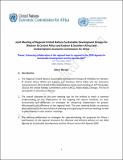 Published
2018-12
Author(s)/Corporate Author (s)
United Nations. Economic Commission for Africa;

Abstract
The overall objective of the joint meeting was for the entities to reach a common understanding on the implications of the ongoing UN reform initiatives on their functionality and deliberate on strategies for deepening collaboration for greater effectiveness and efficiency at the regional level. The joint meeting builds on previous joint initiatives by the two entities of planning and organizing the annual meetings as well as participating in each entities' meetings. The meeting deliberated on strategies for operationalizing the proposals for Phase I optimization of UN regional structures for effective and efficient delivery on the 2030 Agenda for Sustainable Development and the African Union (AU) Agenda 2063.
Citation
"United Nations. Economic Commission for Africa (2018-12). Joint Meeting of Regional United Nations Sustainable Development Groups for Western & Central Africa and Eastern & Southern Africa and United Nations Economic Commission for Africa: draft report. Addis Ababa. © UN. ECA. "
Related items
Showing items related by title, author, creator and subject.
ECOWAS at 45: an assessment of progress towards regional integration in West Africa

United Nations. Economic Commission for Africa; United Nations. Economic Commission for Africa. Subregional Office West Africa (SRO-WA); United Nations. Economic Commission for Africa; United Nations. Economic Commission for Africa. Subregional Office West Africa (SRO-WA)

"United Nations. Economic Commission for Africa; United Nations. Economic Commission for Africa. Subregional Office West Africa (SRO-WA); United Nations. Economic Commission for Africa; United Nations. Economic Commission for Africa. Subregional Office West Africa (SRO-WA) (2016-06-28). ECOWAS at 45: an assessment of progress towards regional integration in West Africa. Addis Ababa. © UN.ECA. https://repository.uneca.org/handle/10855/43624"

COVID-19 Crisis in North Africa: the Impact and Mitigation Responses

United Nations. Economic Commission for Africa; United Nations. Economic Commission for Africa. Subregional Office North Africa (SRO-NA); United Nations. Economic Commission for Africa; United Nations. Economic Commission for Africa. Subregional Office North Africa (SRO-NA)

"United Nations. Economic Commission for Africa; United Nations. Economic Commission for Africa. Subregional Office North Africa (SRO-NA); United Nations. Economic Commission for Africa; United Nations. Economic Commission for Africa. Subregional Office North Africa (SRO-NA) (2020). COVID-19 Crisis in North Africa: the Impact and Mitigation Responses. Addis Ababa. © UN. ECA. https://repository.uneca.org/handle/10855/43762"

Gender mainstreaming activities during 2000-2001

United Nations. Economic and Social Council; United Nations. Economic Commission for Africa; United Nations. Economic Commission for Africa. African Centre for Women; United Nations. Economic Commission for Africa. Subregional Development Centre for Southern Africa (ECA/SRDC-SA)

"Lomayani, Irene Bertha; United Nations. Economic and Social Council; United Nations. Economic Commission for Africa; United Nations. Economic Commission for Africa. African Centre for Women; United Nations. Economic Commission for Africa. Subregional Development Centre for Southern Africa (ECA/SRDC-SA) (2001-11). Gender mainstreaming activities during 2000-2001. UN. ECA Committee on Women and Development (CWD) Meeting (2001, novembre 5 - 8 : Addis Abeba, Ethiopie). Addis Ababa :. © UN. ECA,. http://hdl.handle.net/10855/14076"