Renewable energy and climate change: exploring the policy options for Africa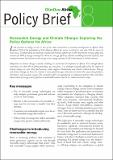 Published
2019
Author(s)/Corporate Author (s)
United Nations. Economic Commission for Africa;
United Nations. Economic Commission for Africa. Special Initiatives Division. African Climate Policy Center;
African Union Commission;
African Development Bank;

Abstract
Lack of access to energy services is one of the main constraints to economic development in Africa. Only about 31% of the population of Sub-Saharan Africa has access to electricity, and only 14% has access in rural areas. Compounding the challenge, traditional biomass supplies up to 85% of primary energy supply and accounts for 80% of energy consumption. With low energy efficiency, limited installed generation capacity, and weak governance institutions in the energy sector, energy security in Africa has become a critical concern.
Citation
"United Nations. Economic Commission for Africa; United Nations. Economic Commission for Africa. Special Initiatives Division. African Climate Policy Center; African Union Commission; African Development Bank (2019). Renewable energy and climate change: exploring the policy options for Africa. Dakar. © UN. IDEP. "
Serial Title
ClimDev Africa(Policy brief) No. 8
Related items
Showing items related by title, author, creator and subject.
A programme in support of African regional integration : submission of Economic Community of West African States (ECOWAS), Economic and Monetary Community of Central Africa (CEMAC), Common Market for Eastern and Southern Africa (COMESA), Intergovernmental Authority on Development (IGAD), Southern African Development Community (SADC)

United Nations. Economic Commission for Africa.; Economic Community of West African States(ECOWAS); Economic and Monetary Community of Central Africa(CEMAC); Common Market for Eastern and Southern Africa(COMESA); Intergovernmental Authority on Development(IGAD); Southern African Development Community(SADC)

"United Nations. Economic Commission for Africa.; Economic Community of West African States(ECOWAS); Economic and Monetary Community of Central Africa(CEMAC); Common Market for Eastern and Southern Africa(COMESA); Intergovernmental Authority on Development(IGAD); Southern African Development Community(SADC) (2001). A programme in support of African regional integration : submission of Economic Community of West African States (ECOWAS), Economic and Monetary Community of Central Africa (CEMAC), Common Market for Eastern and Southern Africa (COMESA), Intergovernmental Authority on Development (IGAD), Southern African Development Community (SADC). UN. ECA Regional Expert Group Meeting on RECs Sub-Regional Integration Programme within the Framework of TICAD Process (2001, Addis Ababa, Ethiopia). Addis Ababa :. © UN. ECA,. http://hdl.handle.net/10855/40993"

The Organization of African Unity Council of Ministers special session on economic and social issues in African development and meeting of the African regional economic communities : Cairo,Egypt 25-31 March 1995

United Nations. Economic Commission for Africa; United Nations. Economic Commission for Africa. Transport, Communications, and Tourism Division.

"Okello, Robert M.; United Nations. Economic Commission for Africa; United Nations. Economic Commission for Africa. Transport, Communications, and Tourism Division. (1995-03). The Organization of African Unity Council of Ministers special session on economic and social issues in African development and meeting of the African regional economic communities : Cairo,Egypt 25-31 March 1995. UN. ECA Meeting of the African Regional Economic Communities (1995, Mar. 23-31: Cairo, Egypt). [Addis Ababa] :. © UN. ECA,. http://hdl.handle.net/10855/2738"