Excerpts from: the economist intelligence unit & freeman, Fox, Wilbur Smith & Assoc.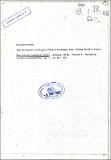 Published
1972-12
Author(s)/Corporate Author (s)
United Nations. Economic Commission for Africa. African Institute for Economic Development and Planning(IDEP);

Abstract
This study states that the development of the East African railways like railways elsewhere, is constructed during a stage of technological and economic development when it was free from effective competition from alternative modes of transport. The distinguishing features of the East African railway have been the extent and importance of the public service element and its effect on the tariff structure. Some current myths about this different tariff.
Citation
"United Nations. Economic Commission for Africa. African Institute for Economic Development and Planning(IDEP) (1972-12). Excerpts from: the economist intelligence unit & freeman, Fox, Wilbur Smith & Assoc.. Dakar. © UN. IDEP. "
Serial Title
volume 1