Chapter II: extract from Lagos plan of action for the implementation of the Monrovia strategy for the economic development of Africa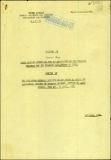 Published
1980-11
Author(s)/Corporate Author (s)
United Nations. Economic Commission for Africa. African Institute for Economic Development and Planning(IDEP);

Abstract
The Lagos Pan of Action acknowledged that Africa was heading into the 1980-90 decade as the "least developed region in the world" as the effect of colonization and proclaimed the years 1980-1990 as the "Industrial Development Decade in Africa." Due to resource limitations faced by African states, the LPA encouraged "industrial co-operation" between Member States in order to strengthen industrialization in Africa. Member states felt they were owed a "massive and appropriate contribution" from developed countries for African development. The plan also called for an industrial base in each Member state for African social and economic development. The 1980 Lagos Plan of Action aims at economic growth in each individual African state in different sectors including food and agriculture, industry and in environmental and energy matters. It adopts specific as well as general targets with time limits, for each aspect of economic planning.
Citation
"United Nations. Economic Commission for Africa. African Institute for Economic Development and Planning(IDEP) (1980-11). Chapter II: extract from Lagos plan of action for the implementation of the Monrovia strategy for the economic development of Africa. Dakar. © UN. IDEP. "
Related items
Showing items related by title, author, creator and subject.
Framework for a set of e-government core indicators

United Nations. Economic Commission for Africa.; United Nations. Economic Commission for Latin America and the Caribbean; United Nations. Economic and Social Commission for Asia and the Pacific; United Nations. Economic and Social Commission for Western Asia; Statistical Office of the European Union; International Telecommunication Union; Organisation for Economic Co-operation and Development; United Nations Conference on Trade and Development

"United Nations. Economic Commission for Africa.; United Nations. Economic Commission for Latin America and the Caribbean; United Nations. Economic and Social Commission for Asia and the Pacific; United Nations. Economic and Social Commission for Western Asia; Statistical Office of the European Union; International Telecommunication Union; Organisation for Economic Co-operation and Development; United Nations Conference on Trade and Development (2012). Framework for a set of e-government core indicators. Addis Ababa :. © UN. ECA,. http://hdl.handle.net/10855/25669"