The monetary obstacles to the expansion of intra-African trade and development in Africa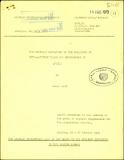 Published
1973-02
Author(s)/Corporate Author (s)
Amin, Samir;
United Nations. Economic Commission for Africa. African Institute for Economic Development and Planning(IDEP);

Abstract
The paper reviews that the challenges of monetary systems of Intra-African Trade and development. In this regard, there are two aspects to the monetary obstacles to African development: a) the assessment of the different monetary systems in force in Africa from the point of view of development requirements and b) the analysis of the impact on the conditions of development in Africa of the functioning of the international monetary system both in its present form (i.e. based on the Bretton Woods agreements) and in the various alternative changes in response to its current crisis. Africa also suffers from the international monetary system in force. As we have already said, this system particularly through the voice of the I.M.F. is still solely preoccupied with balance in the context of the system of unequal international division of labour, without concern for the structural changes required by development. Moreover, there is a danger that the changes envisaged by those concerned to meet the present crisis of the Bretton Woods system (choice of type of international liquidity : gold, dollar or drawing rights and rules for the issue of the latter; preferred adjustment mechanisms : flexible exchange rates or active intervention by a world monetary institution) may be decided once more without taking account of the interests of the under-developed world.
Citation
"Amin, Samir; United Nations. Economic Commission for Africa. African Institute for Economic Development and Planning(IDEP) (1973-02). The monetary obstacles to the expansion of intra-African trade and development in Africa. Dakar. © UN. IDEP. "
Related items
Showing items related by title, author, creator and subject.