Obstacles to intra-African trade and development "some preliminary views"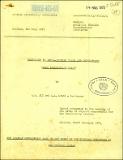 Published
1973-02
Author(s)/Corporate Author (s)
Ali, A.A.G.;
Mills, C. A.;
United Nations. Economic Commission for Africa. African Institute for Economic Development and Planning(IDEP);

Abstract
The purpose of this short paper is to raise and discuss, certain issues pertaining to the problems of intra-African trade, the intra-African monetary obstacles to its expansion, and the effects on African countries (whether singularly and collectively) of their membership in the larger international monetary system.
Citation
"Ali, A.A.G.; Mills, C. A.; United Nations. Economic Commission for Africa. African Institute for Economic Development and Planning(IDEP) (1973-02). Obstacles to intra-African trade and development "some preliminary views". Dakar. © UN. IDEP. "