Concerning the "franc zone and development"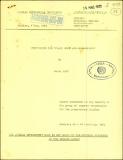 Published
1973-02
Author(s)/Corporate Author (s)
Amin, Samir;
United Nations. Economic Commission for Africa. African Institute for Economic Development and Planning(IDEP);

Abstract
The franc zone consists of 14 countries in sub-Saharan Africa, each affiliated with one of two monetary unions. Benin, Burkina Faso, Côte D'Ivoire, Guinea-Bissau, Mali, Niger, Senegal, and Togo comprise the West African Economic and Monetary Union, or WAEMU, founded in 1994 to build on the foundation of the West African Monetary Union, founded in 1973. The remaining six countries — Cameroon, Central African Republic, Chad, Republic of Congo, Equatorial Guinea, and Gabon — comprise the Central African Economic and Monetary Union, or CAEMC. Our essential criticisms of this report, a report moreover extremely well documented relate precisely to this angle. It seems to us, in fact, that the analysis of the relations between the monetary system and the problems of under-development, and development which is intended to cover every aspect of the problem, is in fact limited to two facts in particular : l) a theoretical general bias concerning the problem of under¬ development at the antipodes of our position and 2) a complete lack of analysis of the real structures of metropolitan and colonial French capitalism which would have thrown light on the essential specific aspects of the franc zone, which are not even touched on in the slightest way in this report.
Citation
"Amin, Samir; United Nations. Economic Commission for Africa. African Institute for Economic Development and Planning(IDEP) (1973-02). Concerning the "franc zone and development". Dakar. © UN. IDEP. "