Inter-African trade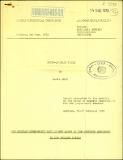 Published
1973-02
Author(s)/Corporate Author (s)
Amin, Samir;
United Nations. Economic Commission for Africa. African Institute for Economic Development and Planning(IDEP);

Abstract
This paper reviews the intensity of inter-African relations varies greatly from one region of Africa to another. It is useful to detect the zones of more intense trade and to try to understand the reasons and the mechanisms of this intra-zonal specialization, in order to perceive its scope and prospects. It covers trade in products originating in the countries, excluding of course the transit, whether organized or not, of foreign goods. The importance of inter-African trade varies greatly from one region to another. Africa which is largely explained by the fact that in its relations with its neighbors South Africa plays the role of an advanced industrial country.
Citation
"Amin, Samir; United Nations. Economic Commission for Africa. African Institute for Economic Development and Planning(IDEP) (1973-02). Inter-African trade. Dakar. © UN. IDEP. "
Related items
Showing items related by title, author, creator and subject.