Education of women in U.A.R.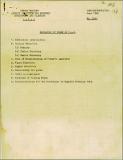 Published
1964-06
Author(s)/Corporate Author (s)
Zaki, A.;
United Nations. Economic Commission for Africa. African Institute for Economic Development and Planning(IDEP);

Abstract
State education in modem Egypt for girls began in 1873. Teaching at that time was confined to reading, writing and some feminine crafts. Number of candidates was very small. In 1889 syllabic were modified according to Boys' education with an addition of women's crafts. There were then only two schools administered by Egyptian head-masters. Then later they were headed by British head mistresses. Lately these were succeeded by Egyptian head-mistresses. Until the end of the 19th century, education for girls was confined to the primary stage. Later, a teachers' training section was added from which graduated the first batch of women teachers in 1903. In 1929 the first batch was graduated from this school on par with the boys. They were thus able to join some of the University faculties namely medicine, science and literature. Since then the Egyptian girls invaded the University. The colleges of engineering and agriculture were the last to agree to admit them in 1945. This progress in girls' education remained confined to a limited number of them who fought their way against traditions. This is the reason why boys' education included overwhelming numbers in comparison.
Citation
"Zaki, A.; United Nations. Economic Commission for Africa. African Institute for Economic Development and Planning(IDEP) (1964-06). Education of women in U.A.R.. Dakar. © UN. IDEP. "
Collections