Peasants and coffee-export: a coffee-exporting region in Tanzania - a distorted economic structure and stagnating agriculture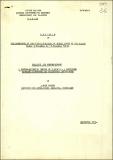 Published
1973-09
Author(s)/Corporate Author (s)
Boesen, Jannik;
United Nations. Economic Commission for Africa. African Institute for Economic Development and Planning(IDEP);

Abstract
In his recent hook, "How Europe underdeveloped Africa," WaIther Rodney analyses the two main types of incorporation of the African peasant into the colonial economic system. One is typical for the mining industry and estate agriculture, where raw materials for export to Europe are produced by large foreign owned companies, employing African migrant laborers, often from distant underdeveloped regions. The other type is the promotion of export crops within African peasant agriculture itself, which is often regarded as a, more development oriented way to incorporate the African peasant in the colonial economic system. This paper tries to analyse the development trends in West Lake Region in Tanzania, the economy of which is dominated by export of coffee produced by small-scale African agriculture. Because of the intense involvement of most of its population in export-production and thereby in the cash economy the Region is normally regarded as one of the more prosperous areas in East Africa, it may also be seen as one example of the development potential inherent in this type of incorporation into the international trade system.
Citation
"Boesen, Jannik; United Nations. Economic Commission for Africa. African Institute for Economic Development and Planning(IDEP) (1973-09). Peasants and coffee-export: a coffee-exporting region in Tanzania - a distorted economic structure and stagnating agriculture. Dakar. © UN. IDEP. "
Related items
Showing items related by title, author, creator and subject.
Impact of the economic community of West African States common external tariff and European Union Economic Partnership Agreements

United Nations. Economic Commission for Africa; United Nations. Economic Commission for Africa. Subregional Office West Africa (SRO-WA); United Nations. Economic Commission for Africa. Subregional Office West Africa (SRO-WA); United Nations. Economic Commission for Africa; United Nations. Economic Commission for Africa. Subregional Office West Africa (SRO-WA); United Nations. Economic Commission for Africa. Subregional Office West Africa (SRO-WA)

"United Nations. Economic Commission for Africa; United Nations. Economic Commission for Africa. Subregional Office West Africa (SRO-WA); United Nations. Economic Commission for Africa. Subregional Office West Africa (SRO-WA); United Nations. Economic Commission for Africa; United Nations. Economic Commission for Africa. Subregional Office West Africa (SRO-WA); United Nations. Economic Commission for Africa. Subregional Office West Africa (SRO-WA) (2017). Impact of the economic community of West African States common external tariff and European Union Economic Partnership Agreements. Addis Ababa. © UN.ECA. https://repository.uneca.org/handle/10855/43873"

Framework for a set of e-government core indicators

United Nations. Economic Commission for Africa.; United Nations. Economic Commission for Latin America and the Caribbean; United Nations. Economic and Social Commission for Asia and the Pacific; United Nations. Economic and Social Commission for Western Asia; Statistical Office of the European Union; International Telecommunication Union; Organisation for Economic Co-operation and Development; United Nations Conference on Trade and Development

"United Nations. Economic Commission for Africa.; United Nations. Economic Commission for Latin America and the Caribbean; United Nations. Economic and Social Commission for Asia and the Pacific; United Nations. Economic and Social Commission for Western Asia; Statistical Office of the European Union; International Telecommunication Union; Organisation for Economic Co-operation and Development; United Nations Conference on Trade and Development (2012). Framework for a set of e-government core indicators. Addis Ababa :. © UN. ECA,. http://hdl.handle.net/10855/25669"

Information society : regional dimensions Africa, Europe & North America, Latin America & Caribbean, Asia & Pacific, Western Asia.

United Nations. Economic Commission for Africa.; United Nations. Economic Commission for Latin America and the Caribbean; United Nations. Economic Commission for Latin America and the Caribbean; United Nations. Economic and Social Commission for Asia and the Pacific; United Nations. Economic and Social Commission for Western Asia

"United Nations. Economic Commission for Africa.; United Nations. Economic Commission for Latin America and the Caribbean; United Nations. Economic Commission for Latin America and the Caribbean; United Nations. Economic and Social Commission for Asia and the Pacific; United Nations. Economic and Social Commission for Western Asia (2003). Information society : regional dimensions Africa, Europe & North America, Latin America & Caribbean, Asia & Pacific, Western Asia.. World Summit on the Information Society (1st : 2003 : Geneva, Switzerland). Geneva :. © UN.ECA. http://hdl.handle.net/10855/41101"