Development social formation and modes of production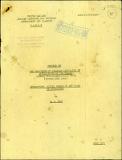 Published
1973-07
Author(s)/Corporate Author (s)
Shah, S. A.;
United Nations. Economic Commission for Africa. African Institute for Economic Development and Planning(IDEP);

Abstract
For the past two decides a lively debate has been underway regarding questions about social formations and modes of production. Discussions have clustered around issues dealing with the transition form feudalism to capitalism, pre-capitalist economic formations, articulation of social formations and. modes of production, colonial modes of production and the transition from socialism to communism. The ensuing literature has certainly served to both widen and deepen our consciousness of the nature and pattern of the process of change and development. This section only attempts to present a brief outline, of what are considered to be the major components of an approach, which can provide a basis for developing an extensive and intensive grasp with regard to the conceptual and social reality referred.to by the combined term social formation modes of production. This brief section it is necessary to underscore that, to clearly grasp the problems of and prospects for development, there is the requirement to examine the process-in terms of interacting, interdependent and mutually transforming set of human labor activities. Furthermore, this kind of an investigation is only fully possible when one engages in the act of transforming the social, political and economic conditions that prevail in the contemporary world.
Citation
"Shah, S. A.; United Nations. Economic Commission for Africa. African Institute for Economic Development and Planning(IDEP) (1973-07). Development social formation and modes of production. Dakar. © UN. IDEP. "
Related items
Showing items related by title, author, creator and subject.