Guidelines on policy measures and practices for improving informal sector productivity and its linkages with other sectors of the economy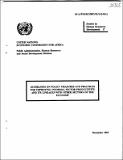 Published
1995-12
Author(s)/Corporate Author (s)
UN. ECA Public Administration, Human Resources and Social Development Division.;
United Nations. Economic Commission for Africa;

Abstract
The recently convened World Summit for Social Development demonstrated that the issue of poverty had finally attracted the attention it deserved and was now going to be addressed by both the developed and the developing countries. The conference Concluded with an historic agreement, embodied in a series of commitments and action plains, to take concrete steps to alleviate poverty, reduce unemployment and social disintegration.
Citation
"UN. ECA Public Administration, Human Resources and Social Development Division.; United Nations. Economic Commission for Africa (1995-12). Guidelines on policy measures and practices for improving informal sector productivity and its linkages with other sectors of the economy. Studies in human resources development;; 17. 17, 43 p. :. Addis Ababa :. © UN. ECA,. https://hdl.handle.net/10855/4266"
Serial Title
Studies in human resources development; 17
Related items
Showing items related by title, author, creator and subject.