Topic proposal : evidence for the prebisch thesis in the SADCC countries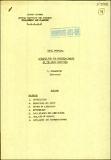 Author(s)/Corporate Author (s)
Kebaagetse, T.;
United Nations. Economic Commission for Africa. African Institute for Economic Development and Planning(IDEP);

Abstract
The objective of this paper is to test the validity of the prebisch thesis of the existence of disparities in the trade between what he calls the "periphery" on the one hand and the "Centre" on the other. The paper is divided into seven sections. Section two will deal with the objectives and scope of the study; section three will review existing literature regarding the prebisch thesis; section four will focus on methodology; the fifth section will concern itself with data sources and their limitations; the sixth section will be consecrated to the analysis of the results of the study and seventh and final section will focus on the concluding remarks and recommendations.
Citation
"Kebaagetse, T.; United Nations. Economic Commission for Africa. African Institute for Economic Development and Planning(IDEP) Topic proposal : evidence for the prebisch thesis in the SADCC countries. Dakar. © UN. IDEP. "
Related items
Showing items related by title, author, creator and subject.
Framework for a set of e-government core indicators

United Nations. Economic Commission for Africa.; United Nations. Economic Commission for Latin America and the Caribbean; United Nations. Economic and Social Commission for Asia and the Pacific; United Nations. Economic and Social Commission for Western Asia; Statistical Office of the European Union; International Telecommunication Union; Organisation for Economic Co-operation and Development; United Nations Conference on Trade and Development

"United Nations. Economic Commission for Africa.; United Nations. Economic Commission for Latin America and the Caribbean; United Nations. Economic and Social Commission for Asia and the Pacific; United Nations. Economic and Social Commission for Western Asia; Statistical Office of the European Union; International Telecommunication Union; Organisation for Economic Co-operation and Development; United Nations Conference on Trade and Development (2012). Framework for a set of e-government core indicators. Addis Ababa :. © UN. ECA,. http://hdl.handle.net/10855/25669"

Information society : regional dimensions Africa, Europe & North America, Latin America & Caribbean, Asia & Pacific, Western Asia.

United Nations. Economic Commission for Africa.; United Nations. Economic Commission for Latin America and the Caribbean; United Nations. Economic Commission for Latin America and the Caribbean; United Nations. Economic and Social Commission for Asia and the Pacific; United Nations. Economic and Social Commission for Western Asia

"United Nations. Economic Commission for Africa.; United Nations. Economic Commission for Latin America and the Caribbean; United Nations. Economic Commission for Latin America and the Caribbean; United Nations. Economic and Social Commission for Asia and the Pacific; United Nations. Economic and Social Commission for Western Asia (2003). Information society : regional dimensions Africa, Europe & North America, Latin America & Caribbean, Asia & Pacific, Western Asia.. World Summit on the Information Society (1st : 2003 : Geneva, Switzerland). Geneva :. © UN.ECA. http://hdl.handle.net/10855/41101"

Monitoring and evaluation programme of the implementation of the Dakar and Beijing Platforms for Action 2000-2004 task brief

United Nations. Economic and Social Council; United Nations. Economic Commission for Africa; United Nations. Economic Commission for Africa. African Centre for Women; United Nations. Economic Commission for Africa. African Centre for Gender and Development

"United Nations. Economic and Social Council; United Nations. Economic Commission for Africa; United Nations. Economic Commission for Africa. African Centre for Women; United Nations. Economic Commission for Africa. African Centre for Gender and Development (2001-11). Monitoring and evaluation programme of the implementation of the Dakar and Beijing Platforms for Action 2000-2004 task brief. UN. ECA Committee on Women and Development (CWD) Meeting (2001, novembre 5 - 8 : Addis Abeba, Ethiopie). Addis Ababa :. © UN. ECA,. http://hdl.handle.net/10855/14093"