Agricultural revolution in Nigeria: which way? Paper for the E.C.A. seminar in Dakar. December 1973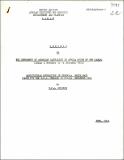 Published
1974-06
Author(s)/Corporate Author (s)
Oyedipe, F.P.A.;
United Nations. Economic Commission for Africa. African Institute for Economic Development and Planning(IDEP);

Abstract
Agricultural revolution in Nigeria defined simply as the stage in the country's development when about 20% of the population can feed the rest in addition to providing necessary raw materials for her industries, has become elusive to attain. It has been shown in this paper that the poor performance of the agricultural sector has been the result of inadequate but exploitative attention given to it, a sector so crucial for our development. A near total mobilization is the least required to produce the desired-positive results, even in a gradualist approach. This paper has drawn heavily on local sources and newspaper reports as well as reported speeches of the authorities to illustrate that we have all that is needed to form an attainable, and workable vision of a Nigeria we want. Never a borrowed one. Thus effective participation of all in designing such a workable vision will help as a guide for development and what we want to leave for posterity. Whether we do so now or not, the social effects for good or ill are inevitable.
Citation
"Oyedipe, F.P.A.; United Nations. Economic Commission for Africa. African Institute for Economic Development and Planning(IDEP) (1974-06). Agricultural revolution in Nigeria: which way? Paper for the E.C.A. seminar in Dakar. December 1973. Dakar. © UN. IDEP. "
Related items
Showing items related by title, author, creator and subject.
Impact of the economic community of West African States common external tariff and European Union Economic Partnership Agreements

United Nations. Economic Commission for Africa; United Nations. Economic Commission for Africa. Subregional Office West Africa (SRO-WA); United Nations. Economic Commission for Africa. Subregional Office West Africa (SRO-WA); United Nations. Economic Commission for Africa; United Nations. Economic Commission for Africa. Subregional Office West Africa (SRO-WA); United Nations. Economic Commission for Africa. Subregional Office West Africa (SRO-WA)

"United Nations. Economic Commission for Africa; United Nations. Economic Commission for Africa. Subregional Office West Africa (SRO-WA); United Nations. Economic Commission for Africa. Subregional Office West Africa (SRO-WA); United Nations. Economic Commission for Africa; United Nations. Economic Commission for Africa. Subregional Office West Africa (SRO-WA); United Nations. Economic Commission for Africa. Subregional Office West Africa (SRO-WA) (2017). Impact of the economic community of West African States common external tariff and European Union Economic Partnership Agreements. Addis Ababa. © UN.ECA. https://repository.uneca.org/handle/10855/43873"

Framework for a set of e-government core indicators

United Nations. Economic Commission for Africa.; United Nations. Economic Commission for Latin America and the Caribbean; United Nations. Economic and Social Commission for Asia and the Pacific; United Nations. Economic and Social Commission for Western Asia; Statistical Office of the European Union; International Telecommunication Union; Organisation for Economic Co-operation and Development; United Nations Conference on Trade and Development

"United Nations. Economic Commission for Africa.; United Nations. Economic Commission for Latin America and the Caribbean; United Nations. Economic and Social Commission for Asia and the Pacific; United Nations. Economic and Social Commission for Western Asia; Statistical Office of the European Union; International Telecommunication Union; Organisation for Economic Co-operation and Development; United Nations Conference on Trade and Development (2012). Framework for a set of e-government core indicators. Addis Ababa :. © UN. ECA,. http://hdl.handle.net/10855/25669"

Information society : regional dimensions Africa, Europe & North America, Latin America & Caribbean, Asia & Pacific, Western Asia.

United Nations. Economic Commission for Africa.; United Nations. Economic Commission for Latin America and the Caribbean; United Nations. Economic Commission for Latin America and the Caribbean; United Nations. Economic and Social Commission for Asia and the Pacific; United Nations. Economic and Social Commission for Western Asia

"United Nations. Economic Commission for Africa.; United Nations. Economic Commission for Latin America and the Caribbean; United Nations. Economic Commission for Latin America and the Caribbean; United Nations. Economic and Social Commission for Asia and the Pacific; United Nations. Economic and Social Commission for Western Asia (2003). Information society : regional dimensions Africa, Europe & North America, Latin America & Caribbean, Asia & Pacific, Western Asia.. World Summit on the Information Society (1st : 2003 : Geneva, Switzerland). Geneva :. © UN.ECA. http://hdl.handle.net/10855/41101"