Outline of a methodology for a survey of an agricultural project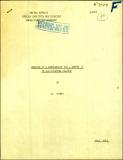 Published
1977-07
Author(s)/Corporate Author (s)
Founou, B.;
United Nations. Economic Commission for Africa. African Institute for Economic Development and Planning(IDEP);

Abstract
A project being carried out is a whole in which the complete analysis must take into account all aspects: economic, social, political, cultural and even moral. The easiest surveys are apparently the economic and social survey which do not require an intimate knowledge of the environment. This impression is given by the fact that these aspects lend themselves to "universal" unites of measurement. This is partly, but only partly, true. To conduct a proper survey, one has first to master certain basic concepts; and then to know the previous social structure, particularly in relation to the concept of tributary mode of production as well as the concept of transition to capitalism or to socialism from that, and integrate this concept into the specific context of the project.
Citation
"Founou, B.; United Nations. Economic Commission for Africa. African Institute for Economic Development and Planning(IDEP) (1977-07). Outline of a methodology for a survey of an agricultural project. Dakar. © UN. IDEP. "
Related items
Showing items related by title, author, creator and subject.
Information society : regional dimensions Africa, Europe & North America, Latin America & Caribbean, Asia & Pacific, Western Asia.

United Nations. Economic Commission for Africa.; United Nations. Economic Commission for Latin America and the Caribbean; United Nations. Economic Commission for Latin America and the Caribbean; United Nations. Economic and Social Commission for Asia and the Pacific; United Nations. Economic and Social Commission for Western Asia

"United Nations. Economic Commission for Africa.; United Nations. Economic Commission for Latin America and the Caribbean; United Nations. Economic Commission for Latin America and the Caribbean; United Nations. Economic and Social Commission for Asia and the Pacific; United Nations. Economic and Social Commission for Western Asia (2003). Information society : regional dimensions Africa, Europe & North America, Latin America & Caribbean, Asia & Pacific, Western Asia.. World Summit on the Information Society (1st : 2003 : Geneva, Switzerland). Geneva :. © UN.ECA. http://hdl.handle.net/10855/41101"

Framework for a set of e-government core indicators

United Nations. Economic Commission for Africa.; United Nations. Economic Commission for Latin America and the Caribbean; United Nations. Economic and Social Commission for Asia and the Pacific; United Nations. Economic and Social Commission for Western Asia; Statistical Office of the European Union; International Telecommunication Union; Organisation for Economic Co-operation and Development; United Nations Conference on Trade and Development

"United Nations. Economic Commission for Africa.; United Nations. Economic Commission for Latin America and the Caribbean; United Nations. Economic and Social Commission for Asia and the Pacific; United Nations. Economic and Social Commission for Western Asia; Statistical Office of the European Union; International Telecommunication Union; Organisation for Economic Co-operation and Development; United Nations Conference on Trade and Development (2012). Framework for a set of e-government core indicators. Addis Ababa :. © UN. ECA,. http://hdl.handle.net/10855/25669"

Programme de formation: ateliers de formation de courte durée en gestion économique

United Nations. Economic Commission for Africa. African Institute for Economic Development and Planning(IDEP); United Nations. Economic Commission for Africa. African Institute for Economic Development and Planning(IDEP)

"United Nations. Economic Commission for Africa. African Institute for Economic Development and Planning(IDEP); United Nations. Economic Commission for Africa. African Institute for Economic Development and Planning(IDEP) (2015). Programme de formation: ateliers de formation de courte durée en gestion économique. Dakar. © UN. IDEP. http://hdl.handle.net/10855/22625"