Economic infrastructure and development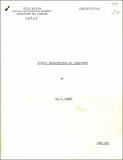 Published
1968-07
Author(s)/Corporate Author (s)
Carney, David;
United Nations. Economic Commission for Africa. African Institute for Economic Development and Planning(IDEP);

Abstract
The term economic infrastructure is here used to cover transport and communications, water and energy resources. The importance of this type of infrastructure lies in its promotion of mobility; mobility of ideas, of persons and goods. Poverty and underdevelopment are correlated with immobility as this limits the spread of ideas, increase in production and distribution of goods and services, and the growth of population and markets. There are two general factors of African development to be considered in this connexion; the inadequate provision of economic infrastructure, the effects of which are obvious, the relationship between the types and patterns of economic infrastructure provided and the type of growth and development which may therefore result. Finally, there is a third factor which follows from the second, the role of infrastructure as a means of controlled growth and development. These factors will be considered in greater detail in connexion with transportation in a subsequent lecture, but it is best to keep them in mind from the outset since they are important to an explanation of the rates of growth and development which have occurred on the African continent up to this point. In general, geographical and other natural factors determine the nature and the cost of economic infrastructure which can be provided, given the technology in use.
Citation
"Carney, David; United Nations. Economic Commission for Africa. African Institute for Economic Development and Planning(IDEP) (1968-07). Economic infrastructure and development. Dakar. © UN. IDEP. "
Related items
Showing items related by title, author, creator and subject.
Framework for a set of e-government core indicators

United Nations. Economic Commission for Africa.; United Nations. Economic Commission for Latin America and the Caribbean; United Nations. Economic and Social Commission for Asia and the Pacific; United Nations. Economic and Social Commission for Western Asia; Statistical Office of the European Union; International Telecommunication Union; Organisation for Economic Co-operation and Development; United Nations Conference on Trade and Development

"United Nations. Economic Commission for Africa.; United Nations. Economic Commission for Latin America and the Caribbean; United Nations. Economic and Social Commission for Asia and the Pacific; United Nations. Economic and Social Commission for Western Asia; Statistical Office of the European Union; International Telecommunication Union; Organisation for Economic Co-operation and Development; United Nations Conference on Trade and Development (2012). Framework for a set of e-government core indicators. Addis Ababa :. © UN. ECA,. http://hdl.handle.net/10855/25669"