Chapter IV: foreign trade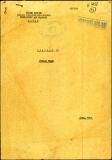 Published
1977-04
Author(s)/Corporate Author (s)
United Nations. Economic Commission for Africa. African Institute for Economic Development and Planning(IDEP);

Abstract
This paper is presents the essential characteristics of foreign trade of dependent Africa reflected the aim features of the colonial character of her economy, its outward orientation and dependence, underdevelopment and vulnerability. They can be summarized in the following: 1) the heavy dependence of African economies, particularly the modern part, on foreign trade. 2) The structure of experts reflected the external orientation of the African ·economies, the modern parts in particular. 3) The pattern of imports dominated by manufactured consumer and capital goods, pointed to the low level of industrial development of African economy, and their total dependence on the metropolitan countries for machinery and technology. 4) The share of Africa in world trade has been insignificant, reflection the small size and structure of its GDP. 5) The balance of trade remained in deficit during most of the colonial period in Africa as a whole. 6) The terms of trade of Africa were unfavorable most of the time. and The ownership of foreign trade companies the processing, marketing transportation' distribution of foreign trade commodities were dominated by foreign· enterprises.
Citation
"United Nations. Economic Commission for Africa. African Institute for Economic Development and Planning(IDEP) (1977-04). Chapter IV: foreign trade. Dakar. © UN. IDEP. "
Related items
Showing items related by title, author, creator and subject.