Is Bourgeoisie still in the ascendants?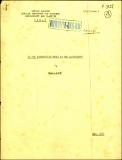 Published
1977-05
Author(s)/Corporate Author (s)
Amin, Samir;
United Nations. Economic Commission for Africa. African Institute for Economic Development and Planning(IDEP);

Abstract
The absolutely basic question of this time, to which all the other questions, whether major or minor ones, are ultimately linked, is whether the bourgeoisie is still in the ascendant. Finding an answer to these question is made an even more complex exercise because the question of whether capitalism can only be superseded by communism (to which the socialist transition leads) still remains unanswered. The paper attempted to give a dual answer by proposing, for the first part of the question, a historical and theoretical explanation of the reasons why capitalism appeared and developed as it did and by proposing, for the second part, a more thorough analysis of the contradictions of the contemporary period which are expressed through the center/periphery conflict within the world capitalist system in the successive phase of imperialism, because this provides the basis for a correct assessment of the liberation movement and its future prospects.
Citation
"Amin, Samir; United Nations. Economic Commission for Africa. African Institute for Economic Development and Planning(IDEP) (1977-05). Is Bourgeoisie still in the ascendants?. Dakar. © UN. IDEP. "
Collections