IDEP Seminar for university teachers : Working paper no.2 : augmentation and improvement of available resource in Africa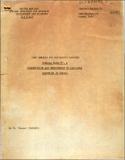 Published
1964-08
Author(s)/Corporate Author (s)
United Nations. Economic Commission for Africa. African Institute for Economic Development and Planning(IDEP);

Abstract
Perhaps the major problem in accelerating the rate of growth of African economies arises from the irrational utilization and mis-allocation of existing resources. There is probably no absolute shortage of resources human and physical. In general, what is lacking is the ability to exploit the existing resources fully and to channel them to areas which are sensitive to rapid economic growth. It is absolutely impossible to discuss every aspect of this problem within the time at my disposal. A greater difficulty in discussing this problem is the shortage of data from which firm conclusions can be drawn on, the existing stage of development of certain key sectors in various African countries. In the event I have had to rely on what facts and figures as are available in the United Nations publications and other sources. This paper should not in any way be regarded as a product of original research. · What I have done is simply to bring into focus certain well known ideas so as to provoke discussions among experts in various fields of African economic development. I have concentrated on only three aspects of re source development viz., the development of human resources, the provision of economic infrastructure and the mobilization of internal financial resources.
Citation
"United Nations. Economic Commission for Africa. African Institute for Economic Development and Planning(IDEP) (1964-08). IDEP Seminar for university teachers : Working paper no.2 : augmentation and improvement of available resource in Africa. Dakar. © UN. IDEP. "
Related items
Showing items related by title, author, creator and subject.
Framework for a set of e-government core indicators

United Nations. Economic Commission for Africa.; United Nations. Economic Commission for Latin America and the Caribbean; United Nations. Economic and Social Commission for Asia and the Pacific; United Nations. Economic and Social Commission for Western Asia; Statistical Office of the European Union; International Telecommunication Union; Organisation for Economic Co-operation and Development; United Nations Conference on Trade and Development

"United Nations. Economic Commission for Africa.; United Nations. Economic Commission for Latin America and the Caribbean; United Nations. Economic and Social Commission for Asia and the Pacific; United Nations. Economic and Social Commission for Western Asia; Statistical Office of the European Union; International Telecommunication Union; Organisation for Economic Co-operation and Development; United Nations Conference on Trade and Development (2012). Framework for a set of e-government core indicators. Addis Ababa :. © UN. ECA,. http://hdl.handle.net/10855/25669"

Information society : regional dimensions Africa, Europe & North America, Latin America & Caribbean, Asia & Pacific, Western Asia.

United Nations. Economic Commission for Africa.; United Nations. Economic Commission for Latin America and the Caribbean; United Nations. Economic Commission for Latin America and the Caribbean; United Nations. Economic and Social Commission for Asia and the Pacific; United Nations. Economic and Social Commission for Western Asia

"United Nations. Economic Commission for Africa.; United Nations. Economic Commission for Latin America and the Caribbean; United Nations. Economic Commission for Latin America and the Caribbean; United Nations. Economic and Social Commission for Asia and the Pacific; United Nations. Economic and Social Commission for Western Asia (2003). Information society : regional dimensions Africa, Europe & North America, Latin America & Caribbean, Asia & Pacific, Western Asia.. World Summit on the Information Society (1st : 2003 : Geneva, Switzerland). Geneva :. © UN.ECA. http://hdl.handle.net/10855/41101"

Monitoring and evaluation programme of the implementation of the Dakar and Beijing Platforms for Action 2000-2004 task brief

United Nations. Economic and Social Council; United Nations. Economic Commission for Africa; United Nations. Economic Commission for Africa. African Centre for Women; United Nations. Economic Commission for Africa. African Centre for Gender and Development

"United Nations. Economic and Social Council; United Nations. Economic Commission for Africa; United Nations. Economic Commission for Africa. African Centre for Women; United Nations. Economic Commission for Africa. African Centre for Gender and Development (2001-11). Monitoring and evaluation programme of the implementation of the Dakar and Beijing Platforms for Action 2000-2004 task brief. UN. ECA Committee on Women and Development (CWD) Meeting (2001, novembre 5 - 8 : Addis Abeba, Ethiopie). Addis Ababa :. © UN. ECA,. http://hdl.handle.net/10855/14093"