Trade, output and employment in Zimbabwe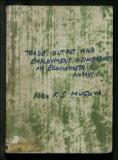 Published
1993-01
Author(s)/Corporate Author (s)
Mugova, Alex K. S.;
United Nations. Economic Commission for Africa. African Institute for Economic Development and Planning(IDEP);

Abstract
In this study an attempt is made to analyze trade, output and employment in Zimbabwe. A relatively small macro econometric model of the Zimbabwean economy is developed as a tool to facilitate the analysis. It is demonstrated that the model is stable, its forecasting power is very good and therefore can be used as a powerful tool for policy prescription, evaluation and forecasting. The findings of the study are confidence-inspiring. In the areas of trade flows, the activity (income and capacity output) and price elasticities invariably exceed unity, strongly suggesting that the Marshall-Lerner-Robinson conditions are satisfied. This implies that there is great scope for the use of the exchange rate as an instrument of effective import management and resource allocation. Import compression and the consequent low levels of overall capacity utilization are shown to have been some of the major bottlenecks to growth in the economy. If these twin problems are effectively addressed, there is real room for increasing national output and employment opportunities. Furthermore , it is also inferred, on the basis of the findings of the study, that there is great scope for the use of monetary and fiscal policies as effective tools to check inflation, consumption and hence national welfare.
Citation
"Mugova, Alex K. S.; United Nations. Economic Commission for Africa. African Institute for Economic Development and Planning(IDEP) (1993-01). Trade, output and employment in Zimbabwe. Dakar. © UN. IDEP. "
Related items
Showing items related by title, author, creator and subject.