Extract from manual of industrial analysis in developing countries (volume I)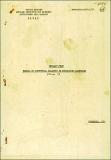 Published
1978-11
Author(s)/Corporate Author (s)
United Nations. Economic Commission for Africa. African Institute for Economic Development and Planning(IDEP);

Abstract
The SF Company, a subsidiary of a large international group, SM, specializes in the manufacture of truck parts. It wishes to diversify its production. With this end in view it has been decided to form a subsidiary known as TCW (Truck and Car Wheel's Limited) for the manufacture of car and truck wheels. Production of car wheels is a new activity for a company which has so far only manufactured truck wheels in one of its workshops. This workshop will be closed, and such equipment as can be salvaged will be installed in the plant of TCW Ltd. The SF project is in line with the country's development' plan and the authorities are favorable to it. They are accordingly prepared to grant a medium-term loan through the intermediary of the National Investment Bank.
Citation
"United Nations. Economic Commission for Africa. African Institute for Economic Development and Planning(IDEP) (1978-11). Extract from manual of industrial analysis in developing countries (volume I). Dakar. © UN. IDEP. "
Related items
Showing items related by title, author, creator and subject.