A brief survey of mineral resources in Africa and notes on the mineral industry in Liberia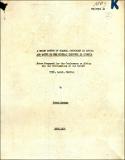 Published
1977-04
Author(s)/Corporate Author (s)
Kromah, Fodee;
United Nations. Economic Commission for Africa. African Institute for Economic Development and Planning(IDEP);

Abstract
Africa has large and significant mineral resources . Exploration for minerals in most African countries is still in the embryonic stage and no doubt Africa's share of minerals will in the future continues to grow. Africa possesses about 80 percent of total world. reserves of phosphate rock. 74 percent of chrome ore 89 percent metallurgical grade chromium, 40 percent of manganese ore, 19 percent uranium ore, 21 percent of bauxite, 8 percent of nickel ore, 75 percent of gold ore, 97 percent of diamonds, 10 percent crude oil and 7.6 percent natural gas.
Citation
"Kromah, Fodee; United Nations. Economic Commission for Africa. African Institute for Economic Development and Planning(IDEP) (1977-04). A brief survey of mineral resources in Africa and notes on the mineral industry in Liberia. Dakar. © UN. IDEP. "
Collections
Related items
Showing items related by title, author, creator and subject.
Final report of the regional conference on the development and utilization of mineral resources in Africa

United Nations. Economic Commission for Africa

"United Nations. Economic Commission for Africa (1981-03). Final report of the regional conference on the development and utilization of mineral resources in Africa. UN. ECA Conference of ministers responsible for Economic Planning / Development Meeting (7th : 1981, April 6 - 11 : Freetown, Sierra Leone); UN. ECA (16th session : 1981, Apr. 6-11: Freetown, Sierra Leone); UN. ECA Technical prepartatory committee of the whole Meeting (2nd: (1981, Mar. 24 - Apr. 2 : Freetown, Sierra Leone). Addis Ababa :. © UN. ECA,. http://hdl.handle.net/10855/14199"

The mining industry in West Africa

United Nations. Economic and Social Council; United Nations. Economic Commission for Africa

"United Nations. Economic and Social Council; United Nations. Economic Commission for Africa (1967-01). The mining industry in West Africa. UN. ECA Sub-Regional Economic Co-operation in West Africa Meeting (1966, Oct. 10 - 22 : Niamey, Niger). Addis Ababa :. © UN. ECA,. http://hdl.handle.net/10855/11341"