Externally orientated development: an assessment of the decade 1 960-70 for the french-speaking countries of West Africa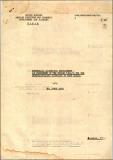 Published
1970-12
Author(s)/Corporate Author (s)
Amin, Samir;
United Nations. Economic Commission for Africa. African Institute for Economic Development and Planning(IDEP);

Abstract
The externally oriented nature of the development is clearly shewn in the correlation between the rates of growth of G.D.P and those of exports. It is worth noting that only two countries show high growth rates. These are the Ivory Coast and Mauritania. The growth rate of the Ivory Coast, which has been studied in detail, results from the exports-orientated agricultural development of the lower coastal regions followed, since 1960, by industrialization based on the Senegalese pattern , and financed in the same way. Mauritania's growth is entirely attributable to the mining industry (extraction of iron ore by Miferma) which is also export orientated. The high growth rate of exports from these two countries reflects the export orientated nature of the development. The same is true, although on a more modest scale, for the growth in Niger (based on the expansion of groundnut cultivation) and for Togo (based on the phosphate mining industry).
Citation
"Amin, Samir; United Nations. Economic Commission for Africa. African Institute for Economic Development and Planning(IDEP) (1970-12). Externally orientated development: an assessment of the decade 1 960-70 for the french-speaking countries of West Africa. Dakar. © UN. IDEP. "
Related items
Showing items related by title, author, creator and subject.