Economic forms in pre-colonial Ghana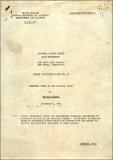 Published
1971-01
Author(s)/Corporate Author (s)
Heymer, Stephen;
United Nations. Economic Commission for Africa. African Institute for Economic Development and Planning(IDEP);

Abstract
This paper uses a simple physiocratic model to examine forms of economic organization prevailing in Ghana before it was incorporated into the British Empire at the end of the nineteenth century. It is divided into three parts. The first analyzes the village subsistence economy and suggests that the egalitarian nature of the land-tenure system prevented the emergence of a land-owning class and the appropriation of an economic surplus. This led to an economic structure characterized by a low level of material production and a low degree of specialization and exchange. The second part analyzes forms of specialization associated with long distance trade: that is, the very old northern trade with other parts of Africa, and the southern coastal trade with Europe which began in the fifteenth century. It argues that foreign trade not only expanded the consumption possibilities of the society, as predicted by the theory of international trade, but also introduced a new class structure and greater income inequality, since it allowed a small group to appropriate a surplus for its own use. The third part discusses the relevance of pre-Colonial forms to twentieth century economic development.
Citation
"Heymer, Stephen; United Nations. Economic Commission for Africa. African Institute for Economic Development and Planning(IDEP) (1971-01). Economic forms in pre-colonial Ghana. Dakar. © UN. IDEP. "
Serial Title
Discussion paper No. 79
Related items
Showing items related by title, author, creator and subject.
Framework for a set of e-government core indicators

United Nations. Economic Commission for Africa.; United Nations. Economic Commission for Latin America and the Caribbean; United Nations. Economic and Social Commission for Asia and the Pacific; United Nations. Economic and Social Commission for Western Asia; Statistical Office of the European Union; International Telecommunication Union; Organisation for Economic Co-operation and Development; United Nations Conference on Trade and Development

"United Nations. Economic Commission for Africa.; United Nations. Economic Commission for Latin America and the Caribbean; United Nations. Economic and Social Commission for Asia and the Pacific; United Nations. Economic and Social Commission for Western Asia; Statistical Office of the European Union; International Telecommunication Union; Organisation for Economic Co-operation and Development; United Nations Conference on Trade and Development (2012). Framework for a set of e-government core indicators. Addis Ababa :. © UN. ECA,. http://hdl.handle.net/10855/25669"

Information society : regional dimensions Africa, Europe & North America, Latin America & Caribbean, Asia & Pacific, Western Asia.

United Nations. Economic Commission for Africa.; United Nations. Economic Commission for Latin America and the Caribbean; United Nations. Economic Commission for Latin America and the Caribbean; United Nations. Economic and Social Commission for Asia and the Pacific; United Nations. Economic and Social Commission for Western Asia

"United Nations. Economic Commission for Africa.; United Nations. Economic Commission for Latin America and the Caribbean; United Nations. Economic Commission for Latin America and the Caribbean; United Nations. Economic and Social Commission for Asia and the Pacific; United Nations. Economic and Social Commission for Western Asia (2003). Information society : regional dimensions Africa, Europe & North America, Latin America & Caribbean, Asia & Pacific, Western Asia.. World Summit on the Information Society (1st : 2003 : Geneva, Switzerland). Geneva :. © UN.ECA. http://hdl.handle.net/10855/41101"

Monitoring and evaluation programme of the implementation of the Dakar and Beijing Platforms for Action 2000-2004 task brief

United Nations. Economic and Social Council; United Nations. Economic Commission for Africa; United Nations. Economic Commission for Africa. African Centre for Women; United Nations. Economic Commission for Africa. African Centre for Gender and Development

"United Nations. Economic and Social Council; United Nations. Economic Commission for Africa; United Nations. Economic Commission for Africa. African Centre for Women; United Nations. Economic Commission for Africa. African Centre for Gender and Development (2001-11). Monitoring and evaluation programme of the implementation of the Dakar and Beijing Platforms for Action 2000-2004 task brief. UN. ECA Committee on Women and Development (CWD) Meeting (2001, novembre 5 - 8 : Addis Abeba, Ethiopie). Addis Ababa :. © UN. ECA,. http://hdl.handle.net/10855/14093"