Development and world trade (Course outline)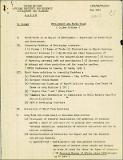 Published
1964-05
Author(s)/Corporate Author (s)
Carney, David;
United Nations. Economic Commission for Africa. African Institute for Economic Development and Planning(IDEP);

Abstract
The course outlines under the title "development and world trade" are: World trade as an engine of development: Experience of world trade and development; Commodity problems of developing countries; Short terms solutions to commodity problems; Evaluation of short term solutions; and Long term solutions based on resource reallocation.
Citation
"Carney, David; United Nations. Economic Commission for Africa. African Institute for Economic Development and Planning(IDEP) (1964-05). Development and world trade (Course outline). Dakar. © UN. IDEP. "
Related items
Showing items related by title, author, creator and subject.