Indivisibility of the production process and "economies of scale"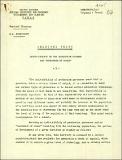 Date
1964
Author(s)/Corporate Author (s)
Bugnicourt, M.J.;
United Nations. Economic Commission for Africa. African Institute for Economic Development and Planning(IDEP);

Résumé
The indivisibility of production processes means that in practice, below a certain volume of output, it is impossible to carry out certain types of production or to follow certain production techniques. From the point of view which we are considering, this impossibility is extremely important. In fact, if this impossibility did not exist, the problem of the effect of population settlement on development would be posed in very different terms, and probably the increase in the population of a territory would even appear to have mainly adverse consequences on the possibilities of increasing (in the long term and in the short term) the level of living of the population of that territory. This point merits consideration for a moment.
Citation
"Bugnicourt, M.J.; United Nations. Economic Commission for Africa. African Institute for Economic Development and Planning(IDEP) (1964). Indivisibility of the production process and "economies of scale". Dakar. © UN. IDEP. "
Related items
Showing items related by title, author, creator and subject.
Impact of the economic community of West African States common external tariff and European Union Economic Partnership Agreements

United Nations. Economic Commission for Africa; United Nations. Economic Commission for Africa. Subregional Office West Africa (SRO-WA); United Nations. Economic Commission for Africa. Subregional Office West Africa (SRO-WA); United Nations. Economic Commission for Africa; United Nations. Economic Commission for Africa. Subregional Office West Africa (SRO-WA); United Nations. Economic Commission for Africa. Subregional Office West Africa (SRO-WA)

"United Nations. Economic Commission for Africa; United Nations. Economic Commission for Africa. Subregional Office West Africa (SRO-WA); United Nations. Economic Commission for Africa. Subregional Office West Africa (SRO-WA); United Nations. Economic Commission for Africa; United Nations. Economic Commission for Africa. Subregional Office West Africa (SRO-WA); United Nations. Economic Commission for Africa. Subregional Office West Africa (SRO-WA) (2017). Impact of the economic community of West African States common external tariff and European Union Economic Partnership Agreements. Addis Ababa. © UN.ECA. https://repository.uneca.org/handle/10855/43873"

Framework for a set of e-government core indicators

United Nations. Economic Commission for Africa.; United Nations. Economic Commission for Latin America and the Caribbean; United Nations. Economic and Social Commission for Asia and the Pacific; United Nations. Economic and Social Commission for Western Asia; Statistical Office of the European Union; International Telecommunication Union; Organisation for Economic Co-operation and Development; United Nations Conference on Trade and Development

"United Nations. Economic Commission for Africa.; United Nations. Economic Commission for Latin America and the Caribbean; United Nations. Economic and Social Commission for Asia and the Pacific; United Nations. Economic and Social Commission for Western Asia; Statistical Office of the European Union; International Telecommunication Union; Organisation for Economic Co-operation and Development; United Nations Conference on Trade and Development (2012). Framework for a set of e-government core indicators. Addis Ababa :. © UN. ECA,. http://hdl.handle.net/10855/25669"

Information society : regional dimensions Africa, Europe & North America, Latin America & Caribbean, Asia & Pacific, Western Asia.

United Nations. Economic Commission for Africa.; United Nations. Economic Commission for Latin America and the Caribbean; United Nations. Economic Commission for Latin America and the Caribbean; United Nations. Economic and Social Commission for Asia and the Pacific; United Nations. Economic and Social Commission for Western Asia

"United Nations. Economic Commission for Africa.; United Nations. Economic Commission for Latin America and the Caribbean; United Nations. Economic Commission for Latin America and the Caribbean; United Nations. Economic and Social Commission for Asia and the Pacific; United Nations. Economic and Social Commission for Western Asia (2003). Information society : regional dimensions Africa, Europe & North America, Latin America & Caribbean, Asia & Pacific, Western Asia.. World Summit on the Information Society (1st : 2003 : Geneva, Switzerland). Geneva :. © UN.ECA. http://hdl.handle.net/10855/41101"