What does the future hold in store for the Sahel?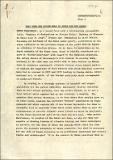 Author(s)/Corporate Author (s)
United Nations. Economic Commission for Africa. African Institute for Economic Development and Planning(IDEP);

Abstract
The entire thesis of Derriennic's will consist in showing that, contrary to the idea that one would wish to make believe in Europe (and in countries concerned), climatic factors alone cannot suffice to explain the magnitude of food deficit with which Sahelian countries have had to contend in 1972 and 11973 leading to famine which, international aid, in spite of the blatant publicity which accompanied it could not absorb.
Citation
"United Nations. Economic Commission for Africa. African Institute for Economic Development and Planning(IDEP) What does the future hold in store for the Sahel?. Dakar. © UN. IDEP. "
Collections