The Maghreb : colonization, decolonization and development prospects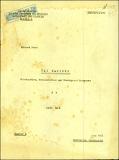 Published
1966-06
Author(s)/Corporate Author (s)
Amin, Samir;
United Nations. Economic Commission for Africa. African Institute for Economic Development and Planning(IDEP);

Abstract
The present chapter will include 3 sections, the first in which, starting from the analysis of the present economic situation of Algeria (1963-65), we shall attempt to draw the main features of a possible 3 - 5 year "Recovery Plan" (l966 to 1968-70) and the last two devoted to the planning experiences in both ex-protectorates. A critical appraisal of the 10 year forecasts (1962-1971) and of Tunisia first 3-year plan (1962-64) on one hand, of Morocco first 5-year plan and 10 year forecasts (1960-70) on the other, will enable us to draw up a comprehensive account of the present Maghreb economy as it appears in 1965 and its most possible prospects for the 5 coming years.
Citation
"Amin, Samir; United Nations. Economic Commission for Africa. African Institute for Economic Development and Planning(IDEP) (1966-06). The Maghreb : colonization, decolonization and development prospects. Dakar. © UN. IDEP. "
Related items
Showing items related by title, author, creator and subject.