Global social democracy and the new international economic order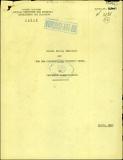 Published
1978-03
Author(s)/Corporate Author (s)
Mansour, Gawzy;
United Nations. Economic Commission for Africa. African Institute for Economic Development and Planning(IDEP);

Abstract
So far, the basic unit of socio-economic analysis has been the country or the nation, with the outer world being brought into the analysis only at a later stage, as a superimposition: in the case of bourgeois theory to assert and extend the demonstration of basic harmony of interests, given the free play of market forces, between classes and nations; and in the case of orthodox, nineteenth century-early twentieth century, Marxist theory, merely to provide an additional arena in which the internal contradictions of highly developed capitalist countries are being played out. In both cases, the basic approach has been Eurpo-centric. It is time this order was reversed, and the whole world was taken as the basic unit of social analysis. This, it is true, has been done by a certain strand of Marxist thought, ever since the appearance of socialism in the Soviet Union and the progressive division of the world into two parts, the capitalist part and the socialist part, whose contradictions we're said to have become the overriding ones which govern all other contradictions. The beginning of world integration into one socio-economic system, however, hence the appropriate basic unit of analysis, dates much further bach to the sixteenth century, the century which witnessed the appearance of the capitalist system.
Citation
"Mansour, Gawzy; United Nations. Economic Commission for Africa. African Institute for Economic Development and Planning(IDEP) (1978-03). Global social democracy and the new international economic order. Dakar. © UN. IDEP. "
Related items
Showing items related by title, author, creator and subject.
Impact of the economic community of West African States common external tariff and European Union Economic Partnership Agreements

United Nations. Economic Commission for Africa; United Nations. Economic Commission for Africa. Subregional Office West Africa (SRO-WA); United Nations. Economic Commission for Africa. Subregional Office West Africa (SRO-WA); United Nations. Economic Commission for Africa; United Nations. Economic Commission for Africa. Subregional Office West Africa (SRO-WA); United Nations. Economic Commission for Africa. Subregional Office West Africa (SRO-WA)

"United Nations. Economic Commission for Africa; United Nations. Economic Commission for Africa. Subregional Office West Africa (SRO-WA); United Nations. Economic Commission for Africa. Subregional Office West Africa (SRO-WA); United Nations. Economic Commission for Africa; United Nations. Economic Commission for Africa. Subregional Office West Africa (SRO-WA); United Nations. Economic Commission for Africa. Subregional Office West Africa (SRO-WA) (2017). Impact of the economic community of West African States common external tariff and European Union Economic Partnership Agreements. Addis Ababa. © UN.ECA. https://repository.uneca.org/handle/10855/43873"

Framework for a set of e-government core indicators

United Nations. Economic Commission for Africa.; United Nations. Economic Commission for Latin America and the Caribbean; United Nations. Economic and Social Commission for Asia and the Pacific; United Nations. Economic and Social Commission for Western Asia; Statistical Office of the European Union; International Telecommunication Union; Organisation for Economic Co-operation and Development; United Nations Conference on Trade and Development

"United Nations. Economic Commission for Africa.; United Nations. Economic Commission for Latin America and the Caribbean; United Nations. Economic and Social Commission for Asia and the Pacific; United Nations. Economic and Social Commission for Western Asia; Statistical Office of the European Union; International Telecommunication Union; Organisation for Economic Co-operation and Development; United Nations Conference on Trade and Development (2012). Framework for a set of e-government core indicators. Addis Ababa :. © UN. ECA,. http://hdl.handle.net/10855/25669"

Information society : regional dimensions Africa, Europe & North America, Latin America & Caribbean, Asia & Pacific, Western Asia.

United Nations. Economic Commission for Africa.; United Nations. Economic Commission for Latin America and the Caribbean; United Nations. Economic Commission for Latin America and the Caribbean; United Nations. Economic and Social Commission for Asia and the Pacific; United Nations. Economic and Social Commission for Western Asia

"United Nations. Economic Commission for Africa.; United Nations. Economic Commission for Latin America and the Caribbean; United Nations. Economic Commission for Latin America and the Caribbean; United Nations. Economic and Social Commission for Asia and the Pacific; United Nations. Economic and Social Commission for Western Asia (2003). Information society : regional dimensions Africa, Europe & North America, Latin America & Caribbean, Asia & Pacific, Western Asia.. World Summit on the Information Society (1st : 2003 : Geneva, Switzerland). Geneva :. © UN.ECA. http://hdl.handle.net/10855/41101"