Administrative aspects of planning in developing countries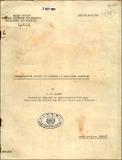 Published
1964-02
Author(s)/Corporate Author (s)
Gilmer, J. H.;
United Nations. Economic Commission for Africa. African Institute for Economic Development and Planning(IDEP);

Abstract
This study of the administrative aspects of national development planning presupposes a region definition of the two terms involved. In accordance with a generally accepted view, it will take national development planning to mean a coherent body of medium and long-term objectives, so designed as to ensure the optimum development of material and human resources and specifying the means and stages involved in achieving that development. The administrative aspects of planning do not include planning as a whole nor the whole field of administration. Planning embodies political aspects which are undoubtedly the most important.
Citation
"Gilmer, J. H.; United Nations. Economic Commission for Africa. African Institute for Economic Development and Planning(IDEP) (1964-02). Administrative aspects of planning in developing countries. Dakar. © UN. IDEP. "
Related items
Showing items related by title, author, creator and subject.