An assessment of the impact of instability of exports receipts on the economic growth of less developing African countries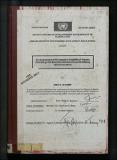 Published
1998-01
Author(s)/Corporate Author (s)
Benjamin, Daisy R.;
United Nations. Economic Commission for Africa. African Institute for Economic Development and Planning(IDEP);

Abstract
The economic crisis in less developing countries (LDCs), especially in sub-Saharan Africa, is characterized by shortage of foreign exchange as a result of declining exports, particularly primary commodity exports, which are a significant part of the total export earnings of African countries. Export earnings increases are associated with increased investment and subsequent increased consumption and output. Fluctuations in earnings from the export of primary commodities have been a major cause of concern for primary producing countries. The study attempts to analyse the effects of fluctuating exports receipts on the level of investments and economic growth over three decades of dire economic crisis in LDCs in Africa. It investigates the effects caused to economies by the virtual collapse of a wide range of primary commodity prices in the 1980s and 90s and their continued unstable levels. The study concludes that in view of the negative effects experienced by countries dependent on primary commodity exports they should include in their trade policies measures for reducing export instability such as export diversification into manufactures, as well as appropriate stabilization schemes.
Citation
"Benjamin, Daisy R.; United Nations. Economic Commission for Africa. African Institute for Economic Development and Planning(IDEP) (1998-01). An assessment of the impact of instability of exports receipts on the economic growth of less developing African countries. Dakar. © UN. IDEP. "
Related items
Showing items related by title, author, creator and subject.
Framework for a set of e-government core indicators

United Nations. Economic Commission for Africa.; United Nations. Economic Commission for Latin America and the Caribbean; United Nations. Economic and Social Commission for Asia and the Pacific; United Nations. Economic and Social Commission for Western Asia; Statistical Office of the European Union; International Telecommunication Union; Organisation for Economic Co-operation and Development; United Nations Conference on Trade and Development

"United Nations. Economic Commission for Africa.; United Nations. Economic Commission for Latin America and the Caribbean; United Nations. Economic and Social Commission for Asia and the Pacific; United Nations. Economic and Social Commission for Western Asia; Statistical Office of the European Union; International Telecommunication Union; Organisation for Economic Co-operation and Development; United Nations Conference on Trade and Development (2012). Framework for a set of e-government core indicators. Addis Ababa :. © UN. ECA,. http://hdl.handle.net/10855/25669"

Information society : regional dimensions Africa, Europe & North America, Latin America & Caribbean, Asia & Pacific, Western Asia.

United Nations. Economic Commission for Africa.; United Nations. Economic Commission for Latin America and the Caribbean; United Nations. Economic Commission for Latin America and the Caribbean; United Nations. Economic and Social Commission for Asia and the Pacific; United Nations. Economic and Social Commission for Western Asia

"United Nations. Economic Commission for Africa.; United Nations. Economic Commission for Latin America and the Caribbean; United Nations. Economic Commission for Latin America and the Caribbean; United Nations. Economic and Social Commission for Asia and the Pacific; United Nations. Economic and Social Commission for Western Asia (2003). Information society : regional dimensions Africa, Europe & North America, Latin America & Caribbean, Asia & Pacific, Western Asia.. World Summit on the Information Society (1st : 2003 : Geneva, Switzerland). Geneva :. © UN.ECA. http://hdl.handle.net/10855/41101"

Monitoring and evaluation programme of the implementation of the Dakar and Beijing Platforms for Action 2000-2004 task brief

United Nations. Economic and Social Council; United Nations. Economic Commission for Africa; United Nations. Economic Commission for Africa. African Centre for Women; United Nations. Economic Commission for Africa. African Centre for Gender and Development

"United Nations. Economic and Social Council; United Nations. Economic Commission for Africa; United Nations. Economic Commission for Africa. African Centre for Women; United Nations. Economic Commission for Africa. African Centre for Gender and Development (2001-11). Monitoring and evaluation programme of the implementation of the Dakar and Beijing Platforms for Action 2000-2004 task brief. UN. ECA Committee on Women and Development (CWD) Meeting (2001, novembre 5 - 8 : Addis Abeba, Ethiopie). Addis Ababa :. © UN. ECA,. http://hdl.handle.net/10855/14093"