Contemporary capitalism in Moslem countries and Islam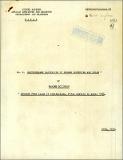 Published
1966-06
Author(s)/Corporate Author (s)
Rodinson, Maxime;
United Nations. Economic Commission for Africa. African Institute for Economic Development and Planning(IDEP);

Abstract
We have seen that there has always been a capitalist sector, even a very extensive one at certain times, in the countries of Islam. But as regards the middle ages, we cannot speak of a capitalist socio-economic formation. The latter presupposes as the basis a capitalist economic system, i.e. a system in which the capitalist sector plays a dominant role, influencing the other sectors without being influenced by them to any large extent. That was far from being the case. It is a fact that this question is now arising in many countries of the Moslem world. The capitalist sector has at least begun to play this dominant role. A few years ago an American economist estimated that it was responsible for 20% of the annual investments in Iraq and Iran, 50% in Turkey, and 80% in Syria and in Lebanon. One can anticipate the possibility of its being extended up to an absolute predominance. This process may have been halted or have culminated in the establishment of another economic system in which the state sector dominates.
Citation
"Rodinson, Maxime; United Nations. Economic Commission for Africa. African Institute for Economic Development and Planning(IDEP) (1966-06). Contemporary capitalism in Moslem countries and Islam. Dakar. © UN. IDEP. "
Related items
Showing items related by title, author, creator and subject.
Framework for a set of e-government core indicators

United Nations. Economic Commission for Africa.; United Nations. Economic Commission for Latin America and the Caribbean; United Nations. Economic and Social Commission for Asia and the Pacific; United Nations. Economic and Social Commission for Western Asia; Statistical Office of the European Union; International Telecommunication Union; Organisation for Economic Co-operation and Development; United Nations Conference on Trade and Development

"United Nations. Economic Commission for Africa.; United Nations. Economic Commission for Latin America and the Caribbean; United Nations. Economic and Social Commission for Asia and the Pacific; United Nations. Economic and Social Commission for Western Asia; Statistical Office of the European Union; International Telecommunication Union; Organisation for Economic Co-operation and Development; United Nations Conference on Trade and Development (2012). Framework for a set of e-government core indicators. Addis Ababa :. © UN. ECA,. http://hdl.handle.net/10855/25669"

Information society : regional dimensions Africa, Europe & North America, Latin America & Caribbean, Asia & Pacific, Western Asia.

United Nations. Economic Commission for Africa.; United Nations. Economic Commission for Latin America and the Caribbean; United Nations. Economic Commission for Latin America and the Caribbean; United Nations. Economic and Social Commission for Asia and the Pacific; United Nations. Economic and Social Commission for Western Asia

"United Nations. Economic Commission for Africa.; United Nations. Economic Commission for Latin America and the Caribbean; United Nations. Economic Commission for Latin America and the Caribbean; United Nations. Economic and Social Commission for Asia and the Pacific; United Nations. Economic and Social Commission for Western Asia (2003). Information society : regional dimensions Africa, Europe & North America, Latin America & Caribbean, Asia & Pacific, Western Asia.. World Summit on the Information Society (1st : 2003 : Geneva, Switzerland). Geneva :. © UN.ECA. http://hdl.handle.net/10855/41101"

Monitoring and evaluation programme of the implementation of the Dakar and Beijing Platforms for Action task brief

United Nations. Economic and Social Council; United Nations. Economic Commission for Africa. African Centre for Gender and Development; United Nations. Economic Commission for Africa; United Nations. Economic Commission for Africa. African Centre for Women

"United Nations. Economic and Social Council; United Nations. Economic Commission for Africa. African Centre for Gender and Development; United Nations. Economic Commission for Africa; United Nations. Economic Commission for Africa. African Centre for Women (2001-11). Monitoring and evaluation programme of the implementation of the Dakar and Beijing Platforms for Action task brief. UN. ECA Committee on Women and Development (CWD) Meeting (2001, novembre 5 - 8 : Addis Abeba, Ethiopie). Addis Ababa :. © UN. ECA,. http://hdl.handle.net/10855/15743"