Foreign firms and trade unions in Kenya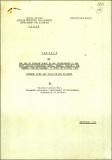 Published
1972-09
Author(s)/Corporate Author (s)
Leitner, Kerstin;
United Nations. Economic Commission for Africa. African Institute for Economic Development and Planning(IDEP);

Abstract
In this "Manifest der kommunistichen Partoi" they stated that all societies in the past had been class societies and that the struggle between these classes worked as the major force to develop human societies. The differing knowledge of how to explore natural and human resources and the conflicting interests of how to use these resources are the main contents of this class struggle. Furthermore, that class is successful which has access to the most advanced means to control and exploit nature for the benefit of men. It is through the control of knowledge this class fights to become the dominant force in society and in so doing to destroy the limitation set by the previous ruling class. By this, Marx and Engels saw that the human history did not only change economic, social and political structures, but also rat class struggle led to the development of a more differentiated and sophisticated model of production based on an increasingly rational theory. this introduction is not meant to give a detailed report of the Marxist theory. The aspects mentioned are only supposed to mark the methodological background of what it's going to say in the following about the Kenyan situation since independence, Capitalistic Industrialization and the emergence of classes in Kenya. Both world wars, in which the European bourgeoisie tried to divide the world among themselves and to revise the division respectively resulted in a strengthening of the national bourgeoisie in Latin America, Asia and Africa. They also accelerated the struggle for socialist revolutions in Asian countries like China, Vietnam and Korea. For historians it should be a worthwhile task to analyse why in Africa south of the Sahara there, is no country until now (except Tanzania and Somalia) which have followed deliberately an anti capitalistic policy with a socialist perspective.
Citation
"Leitner, Kerstin; United Nations. Economic Commission for Africa. African Institute for Economic Development and Planning(IDEP) (1972-09). Foreign firms and trade unions in Kenya. Dakar. © UN. IDEP. "
Related items
Showing items related by title, author, creator and subject.