Finance and development during the post nationalization and post-planning period: development of the Egyptian financial system up to 1967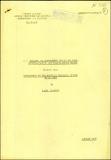 Published
1967
Author(s)/Corporate Author (s)
Mansour, Fawzy;
United Nations. Economic Commission for Africa. African Institute for Economic Development and Planning(IDEP);

Abstract
We have noted that the boat striking development during the pre-liberation period was the near stagnation rate of growth in spite of a relatively high rate of investment and conversely, the achievement during the post-liberation period of a higher rate of growth than was warranted by the then prevailing rate of investment. In principle, nationalization and planning should lead not only to a higher rate of investment; but also to a higher rate of returns from any given rate of investment. They should also lead, if not to a continuous increase in the rates of investment and growth at least not to a decline in both. That both results did not take place requires an explanation. Naturally, the thorough going explanation could only be found in the specific features of the economy and of society, that is, in socio-economic factors. These factors, however, manifested themselves in the clearest way in the financial sphere. We shall begin here by giving a brief factual account of the basic developments of indicators relating to economic growth during that period. This will be followed by an account of their reflection within the financial sphere, which, in its turn, will be traced back to its origin within the sphere of socio-economic relations and developments.
Citation
"Mansour, Fawzy; United Nations. Economic Commission for Africa. African Institute for Economic Development and Planning(IDEP) (1967). Finance and development during the post nationalization and post-planning period: development of the Egyptian financial system up to 1967. Dakar. © UN. IDEP. "
Related items
Showing items related by title, author, creator and subject.