Debt and development: the role of foreign capital in economic growth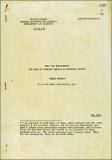 Published
1982-05
Author(s)/Corporate Author (s)
Hughes, Helen;
United Nations. Economic Commission for Africa. African Institute for Economic Development and Planning(IDEP);

Abstract
Capital flows, whether between individuals or nations, are dominated by a two- fold paradox. Borrowers are initially primarily interested in obtaining sufficient funds for their needs, but once they have obtained a loan, their indebtedness becomes their principal concern. While a loan is being negotiated the lenders usually have the upper hand, but once it is made, they become dependent on the borrowers for repayment with interest. Their power to withhold future loans becomes their only real measure of control. Borrowing and lending has costs and benefits, and these balance out only in exceptional cases for both the borrowing and lending countries and the principal social groups within them. The debate about the impact of international capital flows accordingly has a long history. This paper begins with a historical perspective, and then reviews the principal characteristics of capital flows to developing countries since the 1950s. A discussion of the impact of capital flows on development, with a particular emphasis on trends in developing country indebtedness, follows. A brief examination of borrowing and debt management issues for borrowers, lenders and the international community concludes the paper.
Citation
"Hughes, Helen; United Nations. Economic Commission for Africa. African Institute for Economic Development and Planning(IDEP) (1982-05). Debt and development: the role of foreign capital in economic growth. Dakar. © UN. IDEP. "
Related items
Showing items related by title, author, creator and subject.
Framework for a set of e-government core indicators

United Nations. Economic Commission for Africa.; United Nations. Economic Commission for Latin America and the Caribbean; United Nations. Economic and Social Commission for Asia and the Pacific; United Nations. Economic and Social Commission for Western Asia; Statistical Office of the European Union; International Telecommunication Union; Organisation for Economic Co-operation and Development; United Nations Conference on Trade and Development

"United Nations. Economic Commission for Africa.; United Nations. Economic Commission for Latin America and the Caribbean; United Nations. Economic and Social Commission for Asia and the Pacific; United Nations. Economic and Social Commission for Western Asia; Statistical Office of the European Union; International Telecommunication Union; Organisation for Economic Co-operation and Development; United Nations Conference on Trade and Development (2012). Framework for a set of e-government core indicators. Addis Ababa :. © UN. ECA,. http://hdl.handle.net/10855/25669"