Regional methodologies :IDEP Seminar on regionalization of development planning and regional planning in Africa (Ibadan, Nigeria: 16th April – 12th May 1973)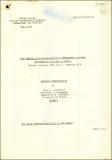 Published
1973-05
Author(s)/Corporate Author (s)
Mabogunje, kin, L.;
United Nations. Economic Commission for Africa. African Institute for Economic Development and Planning(IDEP);

Abstract
Particularly with respect to developing countries, one can identify four broad groups of regional methodologies. These are: the macro-economic, the systems, the locational and the growth pole methodologies. The distinction is to some extent arbitrary since some of these various methodologies are closely interrelated. It can, however, be justified on heuristic grounds as providing a suitable set of headings for classifying a wide range of conceptual ideas concerning methods of regional planning. Each of the four methodologies but especially the first three will be treated in some details in this paper.
Citation
"Mabogunje, kin, L.; United Nations. Economic Commission for Africa. African Institute for Economic Development and Planning(IDEP) (1973-05). Regional methodologies :IDEP Seminar on regionalization of development planning and regional planning in Africa (Ibadan, Nigeria: 16th April – 12th May 1973). Dakar. © UN. IDEP. "
Related items
Showing items related by title, author, creator and subject.