Notes on the political economy of recent economic growth in Egypt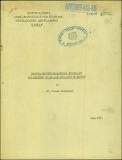 Published
1981-06
Author(s)/Corporate Author (s)
Montasser, Essam;
United Nations. Economic Commission for Africa. African Institute for Economic Development and Planning(IDEP);

Abstract
Since 1974, the Egyptian economy, has experienced, a period of sustained growth. Output as measured by real GDP has been increasing at an average rate of between 4 and 5 % per annul; Published data indicate a higher rate of growth in the area of 8 %, However, such a high rate is due to inadequate data, faulty pride indicates biased towards underestimating inflation rate and errors of conceptual definition. The most obvious example of this' latter data inadequacy is that GDP and NI figures reflect a mixture of real increase in output and income transfers including subsidies. allowance for all these factors point out conclusively to a rate of growth not exceeding 5 % by any means. This average rate of growth continued in the last two years, perhaps at a slightly decelerated rate. While official statistics are available only for 1979, all available indicators such as investment figures, construction inputs and capital goods imports support such a conclusion.
Citation
"Montasser, Essam; United Nations. Economic Commission for Africa. African Institute for Economic Development and Planning(IDEP) (1981-06). Notes on the political economy of recent economic growth in Egypt. Dakar. © UN. IDEP. "
Related items
Showing items related by title, author, creator and subject.
Framework for a set of e-government core indicators

United Nations. Economic Commission for Africa.; United Nations. Economic Commission for Latin America and the Caribbean; United Nations. Economic and Social Commission for Asia and the Pacific; United Nations. Economic and Social Commission for Western Asia; Statistical Office of the European Union; International Telecommunication Union; Organisation for Economic Co-operation and Development; United Nations Conference on Trade and Development

"United Nations. Economic Commission for Africa.; United Nations. Economic Commission for Latin America and the Caribbean; United Nations. Economic and Social Commission for Asia and the Pacific; United Nations. Economic and Social Commission for Western Asia; Statistical Office of the European Union; International Telecommunication Union; Organisation for Economic Co-operation and Development; United Nations Conference on Trade and Development (2012). Framework for a set of e-government core indicators. Addis Ababa :. © UN. ECA,. http://hdl.handle.net/10855/25669"

Information society : regional dimensions Africa, Europe & North America, Latin America & Caribbean, Asia & Pacific, Western Asia.

United Nations. Economic Commission for Africa.; United Nations. Economic Commission for Latin America and the Caribbean; United Nations. Economic Commission for Latin America and the Caribbean; United Nations. Economic and Social Commission for Asia and the Pacific; United Nations. Economic and Social Commission for Western Asia

"United Nations. Economic Commission for Africa.; United Nations. Economic Commission for Latin America and the Caribbean; United Nations. Economic Commission for Latin America and the Caribbean; United Nations. Economic and Social Commission for Asia and the Pacific; United Nations. Economic and Social Commission for Western Asia (2003). Information society : regional dimensions Africa, Europe & North America, Latin America & Caribbean, Asia & Pacific, Western Asia.. World Summit on the Information Society (1st : 2003 : Geneva, Switzerland). Geneva :. © UN.ECA. http://hdl.handle.net/10855/41101"

Monitoring and evaluation programme of the implementation of the Dakar and Beijing Platforms for Action task brief

United Nations. Economic and Social Council; United Nations. Economic Commission for Africa. African Centre for Gender and Development; United Nations. Economic Commission for Africa; United Nations. Economic Commission for Africa. African Centre for Women

"United Nations. Economic and Social Council; United Nations. Economic Commission for Africa. African Centre for Gender and Development; United Nations. Economic Commission for Africa; United Nations. Economic Commission for Africa. African Centre for Women (2001-11). Monitoring and evaluation programme of the implementation of the Dakar and Beijing Platforms for Action task brief. UN. ECA Committee on Women and Development (CWD) Meeting (2001, novembre 5 - 8 : Addis Abeba, Ethiopie). Addis Ababa :. © UN. ECA,. http://hdl.handle.net/10855/15741"