Indebtedness and economic growth the case of Senegal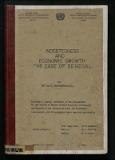 Published
1990-12
Author(s)/Corporate Author (s)
Rurimwishiga, Epitace;
United Nations. Economic Commission for Africa. African Institute for Economic Development and Planning(IDEP);

Abstract
Indebtedness is a normal and critical phenomenon which has always accompanied the economic development process. It becomes a problem of concern only when the economy cannot generate enough resources to pay back debt service. The main schools of economic thought (classical, marxist, and neo-classical) have studied the debt issue following different directions but it is mainly the neo-classical economists who have investigated seriously the effects of external debt on the debtor's economy with the use of models. Adopting one of these models as developed by Kessler (1985) we extended it by Papanek's (1973) and Mosley's (1980) contributions, and used it to study the effects of debt on growth in the Senegalese economy. The interactions between savings and growth and the determinants of the savings function for Senegal were also examined. The results of the analysis indicate that different kinds of external resources (aid, debt, and direct investment) have different effects on the economy indeed. These results, show significant positive relationships between growth, on the one hand, and domestic savings, debt and exports growth rate, on the other. The savings function specification confirms the fundamental role of the income level as a determinant of saving capacity together with direct investment which shows a positive correlation with domestic savings. On the other hand, debt and taxation show negative relationships with domestic savings.
Citation
"Rurimwishiga, Epitace; United Nations. Economic Commission for Africa. African Institute for Economic Development and Planning(IDEP) (1990-12). Indebtedness and economic growth the case of Senegal. Dakar. © UN. IDEP. "
Related items
Showing items related by title, author, creator and subject.
Framework for a set of e-government core indicators

United Nations. Economic Commission for Africa.; United Nations. Economic Commission for Latin America and the Caribbean; United Nations. Economic and Social Commission for Asia and the Pacific; United Nations. Economic and Social Commission for Western Asia; Statistical Office of the European Union; International Telecommunication Union; Organisation for Economic Co-operation and Development; United Nations Conference on Trade and Development

"United Nations. Economic Commission for Africa.; United Nations. Economic Commission for Latin America and the Caribbean; United Nations. Economic and Social Commission for Asia and the Pacific; United Nations. Economic and Social Commission for Western Asia; Statistical Office of the European Union; International Telecommunication Union; Organisation for Economic Co-operation and Development; United Nations Conference on Trade and Development (2012). Framework for a set of e-government core indicators. Addis Ababa :. © UN. ECA,. http://hdl.handle.net/10855/25669"

Information society : regional dimensions Africa, Europe & North America, Latin America & Caribbean, Asia & Pacific, Western Asia.

United Nations. Economic Commission for Africa.; United Nations. Economic Commission for Latin America and the Caribbean; United Nations. Economic Commission for Latin America and the Caribbean; United Nations. Economic and Social Commission for Asia and the Pacific; United Nations. Economic and Social Commission for Western Asia

"United Nations. Economic Commission for Africa.; United Nations. Economic Commission for Latin America and the Caribbean; United Nations. Economic Commission for Latin America and the Caribbean; United Nations. Economic and Social Commission for Asia and the Pacific; United Nations. Economic and Social Commission for Western Asia (2003). Information society : regional dimensions Africa, Europe & North America, Latin America & Caribbean, Asia & Pacific, Western Asia.. World Summit on the Information Society (1st : 2003 : Geneva, Switzerland). Geneva :. © UN.ECA. http://hdl.handle.net/10855/41101"

Monitoring and evaluation programme of the implementation of the Dakar and Beijing Platforms for Action 2000-2004 task brief

United Nations. Economic and Social Council; United Nations. Economic Commission for Africa; United Nations. Economic Commission for Africa. African Centre for Women; United Nations. Economic Commission for Africa. African Centre for Gender and Development

"United Nations. Economic and Social Council; United Nations. Economic Commission for Africa; United Nations. Economic Commission for Africa. African Centre for Women; United Nations. Economic Commission for Africa. African Centre for Gender and Development (2001-11). Monitoring and evaluation programme of the implementation of the Dakar and Beijing Platforms for Action 2000-2004 task brief. UN. ECA Committee on Women and Development (CWD) Meeting (2001, novembre 5 - 8 : Addis Abeba, Ethiopie). Addis Ababa :. © UN. ECA,. http://hdl.handle.net/10855/14093"