Foreign trade, foreign exchange and balance of payments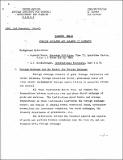 Published
1964
Author(s)/Corporate Author (s)
Carney, David;
United Nations. Economic Commission for Africa. African Institute for Economic Development and Planning(IDEP);

Abstract
Foreign exchange consists of gold, foreign currencies and credit balances, foreign securities, foreign assets. All these instruments derive from, and finance the transactions between countries over and above direct exchange of goods and services. The institutions which handle and arrange transactions in these instruments constitute the foreign exchange market, and consist of central banks, commercial banks, acceptance houses, loan and investment companies, the stock exchanges, the treasury departments of governments, etc. The differences between the values of exports and imports of goods and services between countries take the form of, and are financed with, foreign exchange.
Citation
"Carney, David; United Nations. Economic Commission for Africa. African Institute for Economic Development and Planning(IDEP) (1964). Foreign trade, foreign exchange and balance of payments. Dakar. © UN. IDEP. "
Related items
Showing items related by title, author, creator and subject.