Foreign trade : foreign exchange and balance of payments : the case of Ghana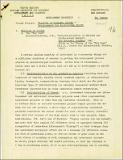 Published
1964
Author(s)/Corporate Author (s)
Carney, David;
United Nations. Economic Commission for Africa. African Institute for Economic Development and Planning(IDEP);

Abstract
Development economics is a certain minimum quantity of investment is a necessary though not a sufficient condition of success in getting the development process started in underdeveloped countries. Little bits of investment, a little here and a little there, will not add up to development or growth because of indivisibilities in the production function, indivisibility of Demand, indivisibility in the supply of savings.
Citation
"Carney, David; United Nations. Economic Commission for Africa. African Institute for Economic Development and Planning(IDEP) (1964). Foreign trade : foreign exchange and balance of payments : the case of Ghana. Dakar. © UN. IDEP. "
Related items
Showing items related by title, author, creator and subject.
Framework for a set of e-government core indicators

United Nations. Economic Commission for Africa.; United Nations. Economic Commission for Latin America and the Caribbean; United Nations. Economic and Social Commission for Asia and the Pacific; United Nations. Economic and Social Commission for Western Asia; Statistical Office of the European Union; International Telecommunication Union; Organisation for Economic Co-operation and Development; United Nations Conference on Trade and Development

"United Nations. Economic Commission for Africa.; United Nations. Economic Commission for Latin America and the Caribbean; United Nations. Economic and Social Commission for Asia and the Pacific; United Nations. Economic and Social Commission for Western Asia; Statistical Office of the European Union; International Telecommunication Union; Organisation for Economic Co-operation and Development; United Nations Conference on Trade and Development (2012). Framework for a set of e-government core indicators. Addis Ababa :. © UN. ECA,. http://hdl.handle.net/10855/25669"