Spatial analysis and economic development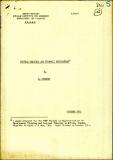 Published
1973-10
Author(s)/Corporate Author (s)
Stuckey, B.;
United Nations. Economic Commission for Africa. African Institute for Economic Development and Planning(IDEP);

Abstract
This paper presents the internal contradictions in the theoretical analysis underlying the strategies, contradictions that foreshadowed failure from the outset. The birth of spatial cures for the condition of underdevelopment derives from the marriage (or at least the juxtaposition) of two lineages of theory and research. The first, the "how-a-region grows" theory, developed directly from the beginnings of regional, economics, and is perhaps best summed up by Perl off et.al. in Regions, Resources and Economic Growth, published in 1960. The second parent of spatial planning for development is the branch of research originating with François Perroux, writing in France in the late 1940s. Perroux coined the famous but so often misunderstood phrase - "growth pole". Both regional theory and the growth pole notion were derived from the observation of growth and development in North America and Europe. As a result, the localization of under development in the Third World was not seen as part of the historical evolution of the international economy.
Citation
"Stuckey, B.; United Nations. Economic Commission for Africa. African Institute for Economic Development and Planning(IDEP) (1973-10). Spatial analysis and economic development. Dakar. © UN. IDEP. "
Related items
Showing items related by title, author, creator and subject.
Framework for a set of e-government core indicators

United Nations. Economic Commission for Africa.; United Nations. Economic Commission for Latin America and the Caribbean; United Nations. Economic and Social Commission for Asia and the Pacific; United Nations. Economic and Social Commission for Western Asia; Statistical Office of the European Union; International Telecommunication Union; Organisation for Economic Co-operation and Development; United Nations Conference on Trade and Development

"United Nations. Economic Commission for Africa.; United Nations. Economic Commission for Latin America and the Caribbean; United Nations. Economic and Social Commission for Asia and the Pacific; United Nations. Economic and Social Commission for Western Asia; Statistical Office of the European Union; International Telecommunication Union; Organisation for Economic Co-operation and Development; United Nations Conference on Trade and Development (2012). Framework for a set of e-government core indicators. Addis Ababa :. © UN. ECA,. http://hdl.handle.net/10855/25669"

Information society : regional dimensions Africa, Europe & North America, Latin America & Caribbean, Asia & Pacific, Western Asia.

United Nations. Economic Commission for Africa.; United Nations. Economic Commission for Latin America and the Caribbean; United Nations. Economic Commission for Latin America and the Caribbean; United Nations. Economic and Social Commission for Asia and the Pacific; United Nations. Economic and Social Commission for Western Asia

"United Nations. Economic Commission for Africa.; United Nations. Economic Commission for Latin America and the Caribbean; United Nations. Economic Commission for Latin America and the Caribbean; United Nations. Economic and Social Commission for Asia and the Pacific; United Nations. Economic and Social Commission for Western Asia (2003). Information society : regional dimensions Africa, Europe & North America, Latin America & Caribbean, Asia & Pacific, Western Asia.. World Summit on the Information Society (1st : 2003 : Geneva, Switzerland). Geneva :. © UN.ECA. http://hdl.handle.net/10855/41101"

Monitoring and evaluation programme of the implementation of the Dakar and Beijing Platforms for Action task brief

United Nations. Economic and Social Council; United Nations. Economic Commission for Africa. African Centre for Gender and Development; United Nations. Economic Commission for Africa; United Nations. Economic Commission for Africa. African Centre for Women

"United Nations. Economic and Social Council; United Nations. Economic Commission for Africa. African Centre for Gender and Development; United Nations. Economic Commission for Africa; United Nations. Economic Commission for Africa. African Centre for Women (2001-11). Monitoring and evaluation programme of the implementation of the Dakar and Beijing Platforms for Action task brief. UN. ECA Committee on Women and Development (CWD) Meeting (2001, novembre 5 - 8 : Addis Abeba, Ethiopie). Addis Ababa :. © UN. ECA,. http://hdl.handle.net/10855/15743"