The economic surplus, a fundamental factor of a development policy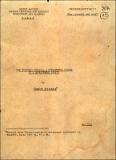 Published
1972-05
Author(s)/Corporate Author (s)
Bettelheim, Charles;
United Nations. Economic Commission for Africa. African Institute for Economic Development and Planning(IDEP);

Abstract
Many reasons justify the choice of the concept of "economic surplus" as a topic for a specific reflection. They are both practical and theoretical. From the practical point of view, every development policy necessarily aims at influencing the size and the use of the economic surplus, hence the importance of defining this concept and all those connected with it as clearly and as precisely as possible. The strategic character of this concept becomes apparent, particularly, when we examine the practical obstacles to a rapid rise in the growth rate of the economy; and we discover that the limited amount of funds available for investment only forms part of these obstacles. This, among others, raises the question of the optimum rate of investment and that of its relations with the rate of formation of the surplus. A theoretical analysis then becomes necessary.The theoretical scope of the notion of "economic surplus" is still wider than it may appear from the point of view of economic theory alone. In fact, a large number of recent works written by historians, ethnologists, sociologists and of course economists have shown that from the point of view of theory, the concept of "economic surplus" is of fundamental importance in the understanding of a large number of problems raised by history, ethnology and sociology.
Citation
"Bettelheim, Charles; United Nations. Economic Commission for Africa. African Institute for Economic Development and Planning(IDEP) (1972-05). The economic surplus, a fundamental factor of a development policy. Dakar. © UN. IDEP. "
Related items
Showing items related by title, author, creator and subject.
Framework for a set of e-government core indicators

United Nations. Economic Commission for Africa.; United Nations. Economic Commission for Latin America and the Caribbean; United Nations. Economic and Social Commission for Asia and the Pacific; United Nations. Economic and Social Commission for Western Asia; Statistical Office of the European Union; International Telecommunication Union; Organisation for Economic Co-operation and Development; United Nations Conference on Trade and Development

"United Nations. Economic Commission for Africa.; United Nations. Economic Commission for Latin America and the Caribbean; United Nations. Economic and Social Commission for Asia and the Pacific; United Nations. Economic and Social Commission for Western Asia; Statistical Office of the European Union; International Telecommunication Union; Organisation for Economic Co-operation and Development; United Nations Conference on Trade and Development (2012). Framework for a set of e-government core indicators. Addis Ababa :. © UN. ECA,. http://hdl.handle.net/10855/25669"

Information society : regional dimensions Africa, Europe & North America, Latin America & Caribbean, Asia & Pacific, Western Asia.

United Nations. Economic Commission for Africa.; United Nations. Economic Commission for Latin America and the Caribbean; United Nations. Economic Commission for Latin America and the Caribbean; United Nations. Economic and Social Commission for Asia and the Pacific; United Nations. Economic and Social Commission for Western Asia

"United Nations. Economic Commission for Africa.; United Nations. Economic Commission for Latin America and the Caribbean; United Nations. Economic Commission for Latin America and the Caribbean; United Nations. Economic and Social Commission for Asia and the Pacific; United Nations. Economic and Social Commission for Western Asia (2003). Information society : regional dimensions Africa, Europe & North America, Latin America & Caribbean, Asia & Pacific, Western Asia.. World Summit on the Information Society (1st : 2003 : Geneva, Switzerland). Geneva :. © UN.ECA. http://hdl.handle.net/10855/41101"

Monitoring and evaluation programme of the implementation of the Dakar and Beijing Platforms for Action task brief

United Nations. Economic and Social Council; United Nations. Economic Commission for Africa. African Centre for Gender and Development; United Nations. Economic Commission for Africa; United Nations. Economic Commission for Africa. African Centre for Women

"United Nations. Economic and Social Council; United Nations. Economic Commission for Africa. African Centre for Gender and Development; United Nations. Economic Commission for Africa; United Nations. Economic Commission for Africa. African Centre for Women (2001-11). Monitoring and evaluation programme of the implementation of the Dakar and Beijing Platforms for Action task brief. UN. ECA Committee on Women and Development (CWD) Meeting (2001, novembre 5 - 8 : Addis Abeba, Ethiopie). Addis Ababa :. © UN. ECA,. http://hdl.handle.net/10855/15741"