The transfer of industrial technology to the Under-developed countries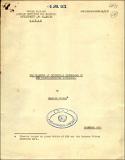 Published
1971-12
Author(s)/Corporate Author (s)
Cooper, Charles;
United Nations. Economic Commission for Africa. African Institute for Economic Development and Planning(IDEP);

Abstract
Technology transfer' has quite suddenly become fashionable. It may be that after a long stagnation in the volume of official capital aid, there are Pressures to find other ways in which the advanced countries can assist development - or even political pressures to show how much the advanced countries are actually doing - even if official credits have hardly grown at all. Developing countries generally want rapid industrialization and practically by definition, this means they must get access to acquired technical knowledge and existing technology.
Citation
"Cooper, Charles; United Nations. Economic Commission for Africa. African Institute for Economic Development and Planning(IDEP) (1971-12). The transfer of industrial technology to the Under-developed countries. Dakar. © UN. IDEP. "
Related items
Showing items related by title, author, creator and subject.