Development in Africa (introduction)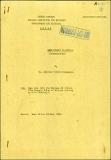 Date
1980-09
Author(s)/Corporate Author (s)
Founou-Tchuigoua, Bernard;
United Nations. Economic Commission for Africa. African Institute for Economic Development and Planning(IDEP);

Résumé
Maps that tell the history of Africa is used to be just complaints that historians writing bout Africa concentrated on the colonial period; some even questioned the existence of any reliable material about earlier periods. Such complaints can't possibly be made. The first of whose 59 maps shows Africa as it is thought to have been 175 million years ago, part of the single "super-continent" into which all the world's land mass was grouped, with Africa in the middle.
Citation
"Founou-Tchuigoua, Bernard; United Nations. Economic Commission for Africa. African Institute for Economic Development and Planning(IDEP) (1980-09). Development in Africa (introduction). Dakar. © UN. IDEP. "
Related items
Showing items related by title, author, creator and subject.
Framework for a set of e-government core indicators

United Nations. Economic Commission for Africa.; United Nations. Economic Commission for Latin America and the Caribbean; United Nations. Economic and Social Commission for Asia and the Pacific; United Nations. Economic and Social Commission for Western Asia; Statistical Office of the European Union; International Telecommunication Union; Organisation for Economic Co-operation and Development; United Nations Conference on Trade and Development

"United Nations. Economic Commission for Africa.; United Nations. Economic Commission for Latin America and the Caribbean; United Nations. Economic and Social Commission for Asia and the Pacific; United Nations. Economic and Social Commission for Western Asia; Statistical Office of the European Union; International Telecommunication Union; Organisation for Economic Co-operation and Development; United Nations Conference on Trade and Development (2012). Framework for a set of e-government core indicators. Addis Ababa :. © UN. ECA,. http://hdl.handle.net/10855/25669"